Hague: progress good for Lashkar Gah transition
The transition of security from ISAF to Afghan forces in Lashkar Gah is scheduled to begin in July, Mr Hague added. He said that, on 15 May…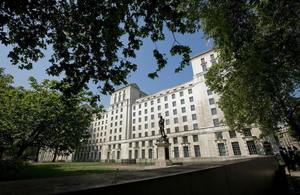 The transition of security from ISAF to Afghan forces in Lashkar Gah is scheduled to begin in July, Mr Hague added.
He said that, on 15 May, Governor Mangal held the third in a series of command-level meetings to review planning for coalition forces' transfer of responsibility for security in central Lashkar Gah to the Afghan National Security Forces (ANSF). Mr Hague said:
The RC-SW [Regional Command (South West)] Commanding General made clear to Mangal's top ANSF commanders that a dedicated coalition forces quick reaction force would remain in Helmand as Lashkar Gah enters transition. They would support the ANSF in responding to any insurgent attack in Lashkar Gah it could not handle alone.
Mr Hague also said that during May representatives of the international community and Afghan Government focused on final preparation and planning for the implementation of transition in the first tranche of provinces and urban districts. This included a strategic directive for transition implementation and provincial transition plans that will inform a transition planning conference for Afghan Ministers, scheduled for June.
Also in the report Mr Hague said that May saw the start of the Taliban's fighting season, with an expected increase in the number of violent incidents.
Mr Hague said that the poppy harvest in the south has come to an end, releasing fighting-age males for employment by insurgents, and insurgent activity returned to a more familiar geographical pattern, with violent incidents concentrated in southern provinces.
For the month as a whole, however, Mr Hague said that levels of violence, although higher than those seen in April, are broadly in line with what we would expect for this time of year.
He said that the insurgency has focused its efforts on a number of 'spectaculars', including the assaults in Kandahar on 7 May and the 21 May suicide attack at a Kabul military hospital. These high-profile attacks were intended to show the population that the insurgency remains active.
Mr Hague also said that good progress in Afghan Uniformed Police training and development has continued, adding that leadership training is challenging owing to inconsistent support from Afghan district-level leadership.
The increasing number of Afghans wishing to serve in the Afghan National Police as officers has enabled the Ministry of Interior to apply higher selection standards.
He also said that Governor-led poppy eradication operations have been concluded in the south of the country, including in Helmand province, with the Governor of Helmand's teams eradicating 2,111 hectares of poppy, an increase of almost 30 per cent compared with last year.
To read the full May report, which includes details on governance, economic development and anti-corruption, see Related Links.
Published 23 June 2011