Hague: insurgent activity in Helmand low
Mr Hague reported on progress in Afghanistan during April in Parliament today, Tuesday 17 May 2011. In a written statement to Parliament the…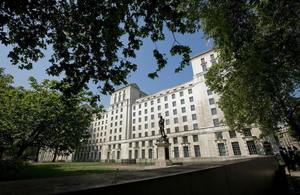 Mr Hague reported on progress in Afghanistan during April in Parliament today, Tuesday 17 May 2011.
In a written statement to Parliament the Foreign Secretary said:
Insurgent activity in April did not increase significantly compared with that seen in March. Within Helmand, levels of such activity remained particularly low compared to previous periods.

However, seasonal trends associated with the completion of the poppy harvest, the large number of weapons caches still being found and the Taliban's declared intention to begin their spring offensive all suggest that activity will increase over the coming months.

The strength of the Afghan National Security Forces [ANSF] has grown again in April and this, combined with falling attrition rates, will help to ensure that the ANSF are increasingly able to meet this threat.

As the Prime Minister stated on 3 May, the death of Al-Qaeda founder and leader Osama bin Laden, killed by US ground forces in Pakistan on 2 May, presents a new opportunity for Afghanistan and Pakistan to work together to achieve stability on both sides of the border.

We should take this opportunity to send a clear message to the Taliban: now is the time to separate themselves from Al-Qaeda and participate in a peaceful political process.
To see the April report on Afghanistan in full, which details matters including security, the insurgent threat, Afghan National Security Forces' capability and the economy and development, see Related Links.
Published 17 May 2011