News story
Haass Talks: Villiers urges NI parties to continue to seek progress on outstanding issues
The Secretary of State responds following the failure of the NI political parties to reach full agreement on flags, parading and the past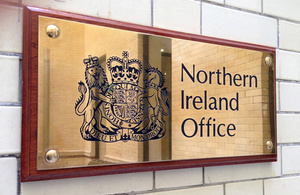 Ms Villiers commented:
It is disappointing that it has not been possible to reach a comprehensive agreement on flags, parading and the past within the timetable set out by Dr Haass and his team. Yet this should not be seen as the end of the road in seeking to find a way forward on these difficult and divisive issues.
The Haass process has seen much valuable work done involving the political parties along with groups and individuals from across the community. Significant progress has been made. It is important to build on this and continue to seek agreement in areas that continue to be a focus for tension and division within society.
I welcome the suggestion by Dr Haass that the parties should now lose no time in getting together to see how they can most constructively take things forward. I would encourage them to maintain the momentum that their efforts, working with the Haass team, has created. For our part the UK Government will look at how we can best facilitate this.
I would like to pay tribute to Richard Haass, Meghan O'Sullivan and their team. They have shown immense resilience, fortitude and dedication since they were asked by the First and deputy First Ministers to take on the task of chairing these negotiations. The fact that a final agreement has yet to be reached in no way reflects their efforts or their commitment.
They leave Northern Ireland with my and the Prime Minister's sincere thanks for the work they have done.
Published 31 December 2013