Gurkhas help Nepalese community after flash floods
Soldiers based at the British Gurkha Camp at Pokhara in Nepal have been helping the local community cope with recent flash floods.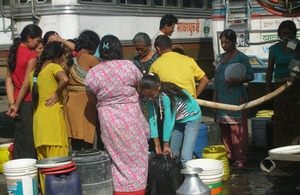 A flash flood on the Seti River at the beginning of May caused damage to the local water supply infrastructure including a mains water pipe. This has resulted in a major water shortage problem for the local community.
The British Gurkha Camp in Pokhara though has its own water supply, so was therefore unaffected by the flood. The soldiers therefore offered to supply water to the local people outside the camp through filling municipal sponsored tankers as well as allowing people to collect water form the taps at the front and rear of the British camp.
Up to 350,000 litres of drinking water per day have been offered up free of charge by the Gurkhas, with the local authorities responsible for collection and distribution.
Lance Corporal (LCpl) Hira from 1st Battalion The Royal Gurkha Rifles (1 RGR) said:
The number of people turning up to collect water has been uncountable. They are not happy; they are MORE than happy. They always say they are so grateful to British Gurkhas Nepal. It is my pride to be helping the local people in Pokhara as a member of the British Army.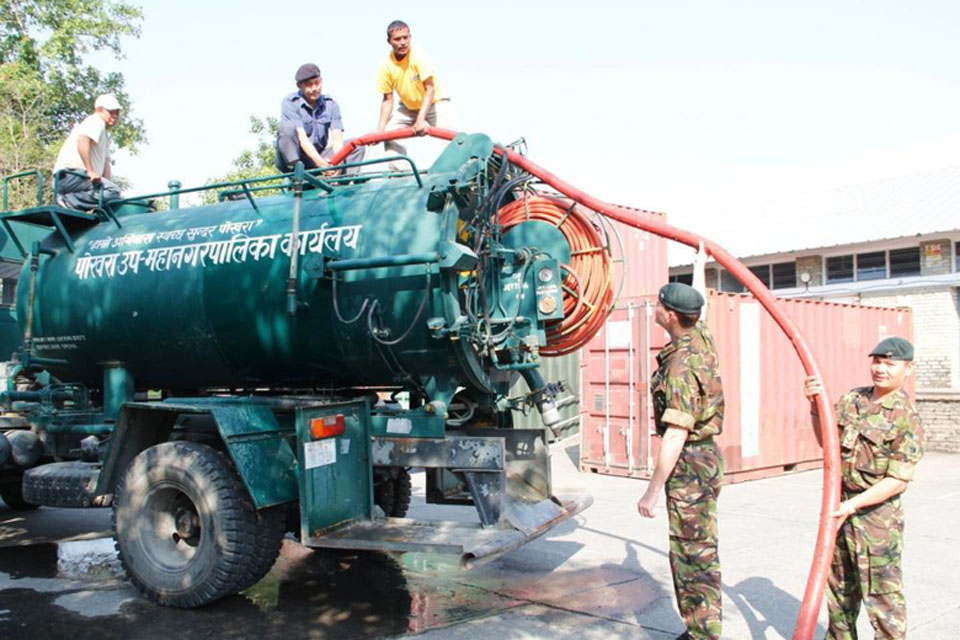 LCpl Yam from 2nd Battalion The Royal Gurkha Rifles said:
There are so many people. It is a real pleasure helping the local communities in Pokhara, the heartland of British Gurkhas, after the flooding from the Seti River that tragically claimed so many lives.
It means so much to me to be representing the British Army amongst the Nepali people in such a positive way. I am so proud to be here.
LCpl Surya Rana from 1 RGR said:
British Gurkhas Pokhara have received such a positive response to our efforts to provide safe drinking water to the people of Pokhara. I really feel our reputation here has never been higher.
Everyone who collects water from the tankers we are filling [there are hundreds], or from the two taps we are running from Camp, has told us how grateful they are.
Some people have really suffered and have had no drinking water for two weeks, since the landslide.
They were desperate, and we have now provided for them, so they are happy. I am happy that we at British Gurkhas Pokhara are able to make their lives a little bit easier.
British Gurkhas have a long-standing connection with Kaski District, and enjoy valuable relationships with the local community.
This small relief effort is designed to help those in need, not only ex-Gurkha servicemen and their families, but also from the wider community in the district.
The supply of water from the British camp will be kept under review during the coming weeks.
Published 28 May 2012