Gurkhas forge relationships in Afghanistan
Three months into their current Helmand deployment, soldiers from 2nd Battalion The Royal Gurkha Rifles (2 RGR) are using their language skills to build relationships with their partners in the Afghan National Security Forces and Afghan locals.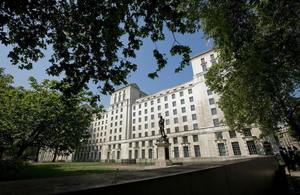 For many of the Gurkhas, this is their fourth or fifth tour of Afghanistan. This experience, added to the shared language they have with Afghans have made them excellent assets to ISAF in Helmand province.
The Gurkhas speak Urdu, widely spoken as a a second or third language in Afghanistan.
There are numerous benefits of this: better relationships can be formed, ones not based around small talk, but proper conversations about home, politics and, of course, sharing jokes.
There is almost always an Urdu speaker amongst the Afghan Uniformed Police (AUP) in a checkpoint (CP) and when a Gurkha unit visits an AUP CP, the young riflemen are able to exchange more than mere pleasantries; chatting with their patrolman counterparts, gaining a real understanding of the AUP, and getting the truth about any issues they may have. The AUP can often mistake some of the Gurkhas as interpreters due to their excellent language abilities.
Having heard the Gurkhas reputation of being fierce fighters, at the start of the tour locals in the Nahr-e Saraj area had been afraid. However, once the riflemen from 2 RGR's A Company were out and engaging with the local population, these fears were soon allayed.
Police Advisory Team (PAT) commander Sergeant Basanta Rai says the affinity between the two cultures, based on similar lifestyles and the ability to converse in Urdu, allow close relationships to be formed between that Afghans and Gurkhas:
'Sangeya, kaisay ho yaar?' - a mixture of Pashto and Hindu greeting with a smile and a firm handshake starts my daily engagement with the Afghan National Police of Nad 'Ali South," he said.
I won't lie in saying that my Pashto is getting any better, but our handshakes have already converted to 'cheek-banging' greetings and Afghani embraces during our every encounter. Over time we have become close, and the word 'andiwal' (friend) is used to prefix our names.
Captain James Arney, a 2 RGR officer commanding the PAT, based in Babaji, has noticed the benefits of having his team of Gurkhas as mentors:
Culturally, Nepal and Afghanistan is not so dissimilar. Eating is a shared activity; a time to bond and show generosity. Just like the Gurkhas share their seemingly endless supply of 'maccha' (food), the AUP, despite having little, share their naan [a traditional bread] and cucumbers over lunch. They cook together and eat together just like the Gurkhas 'khaida' of messing.
The AUP, like the Gurkhas, wash their hands in an almost ceremonial fashion before and after eating, and the focal point is the area around the carpet, or in the Gurkha case, the 'chautari'.
The body language between the two is similar," he continues. "Telling a story with hand actions, and shrugging the head to one side when reluctantly agreeing to something. It is proven that people relate better to people who resemble themselves, and [this] is demonstrated by the relationships I witness daily with the AUP, locals and the Gurkhas.
Corporal Tilak earned a Mention in Dispatches for his gallant actions alongside the AUP in Chah-e Anjir in the summer of 2009. Now working again out of the Babaji Police headquarters, many AUP commanders were delighted to see his return, and they call him wherever the Gurkhas go. See Related News.
Likewise, Capt Kajiman Limbu MC and Sgt Dilli Rai were mentors for the AUP on Op HERRICK 9. Since their return, they have been reunited with many old friends. Wherever the PATs go, the AUP give a 'thumbs-up' whilst calling out "Nepali good!"
Gurkhas are renowned for their patience, largely due to their rural upbringing and the knowledge that everything takes time: waiting for the crops to grow, collecting water or travelling for days to see a doctor. Patience is crucial when in a mentoring role. Gurkhas apply the correct method: smile, laugh it off, and try again the next day.
Published 1 August 2011