Gurkha Engineers lead Team GB's Olympic flag-raising team
A Gurkha Engineer is leading the British Army's Victory Ceremony flag-raising team which salutes Team GB's Olympic medal wins.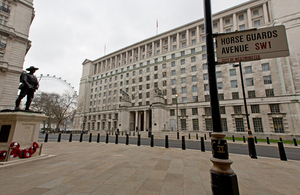 Staff Sergeant Raju Pun, from 36 Engineer Regiment, and his eight-man unit have been preparing and raising flags at the medal ceremonies at both the Hampton Court Palace and Hyde Park Olympic venues, where cyclist Bradley Wiggins and triathlete Alistair Brownlee have both taken gold.
National flags are raised for the athletes who finish with gold, silver and bronze medals.
SSgt Pun commented:
This has been a once-in-a-lifetime opportunity for me and the other soldiers. We are very proud to have been picked.

My favourite moment has been getting close to the athletes who have won gold and it's been great working with so many different people.
As well as looking immaculate, the team fully rehearse each ceremony with military precision. Each flag must be ironed and inspected beforehand by the Gurkhas.
To prepare for the event the team received training at Portsmouth to practice raising and lowering the flags correctly.
Deciding who from the unit made it into the team was difficult. SSgt Pun explained:
I picked every one in the team because they all represent sport for our battalion. We have boxers and footballers. I thought it was best to pick the men who have represented us, but who will also appreciate the opportunity to meet the Olympic athletes.
One of the lucky ones to be chosen was Lance Corporal Amardip Thebe. He said:
When British athletes are competing, we watch it on TV in our changing room, supporting them. Then when we are raising the flag it feels great. It's as if we're winning the gold medal.
LCpl Thebe has also had the chance to watch some events:
You can go round central London and see all the people coming in to watch the Games. I watched one of the football matches between Team GB and Brazil, it was great," he said.
The team was also involved in the raising of over 40 different flags to welcome athletes to the Olympic Village and will continue to raise the flags with pride for the Paralympics.
Published 10 August 2012