News story
Gunners swap sands of Afghanistan for the Atlantic Ocean
Soldiers from 7th Parachute Regiment Royal Horse Artillery (7 PARA RHA) are swapping the dusty heat of landlocked Afghanistan for the cold waters of the Atlantic.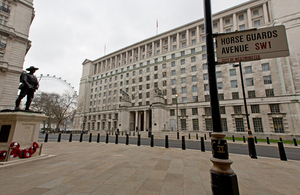 After returning from a six-month long tour of Helmand in April 2011, the Colchester-based gunners are sailing across the Atlantic Ocean as adventurous training and to raise money for Help for Heroes and the Royal Artillery Charitable Fund.
Exercise Atlantic Challenge will see the soldiers set sail on HMSTV Endeavour from the Isle of Wight on Sunday, 19 June 2011 and aim to arrive in New York in mid-July 2011 after the 3,200 nautical mile (5,926km) crossing.
With a civilian skipper at the helm, the crew of 14 includes keen sailors and soldiers who will be taking to the waves for the first time. For the novices, a week of training in the Solent is all the preparation they will have for the trip.
Expedition leader, Captain John O'Keeffe, said:
Crossing the Atlantic is still one of the hardest challenges available and something that we are not taking lightly.
Many of the crew have never sailed before and despite starting in June we are very much expecting to face rough conditions which will test the leadership and skills of the experienced sailors and resolve of the novices.
However I am confident that the training we will have had will ensure our success.
A huge force driving us to succeed at such an arduous challenge is raising as much money as we can for two charities doing excellent work to support the military.
Sailing the Atlantic has always been a personally ambition of mine and I'm thrilled by the enthusiasm of all of my crew, especially considering that half have never sailed before and we have all recently returned from operations.
Roles carried out by the troops in Afghanistan ranged from commanding and firing the 105mm Light Gun to acting as Forward Air Controllers, co-ordinating support to units on the ground from jets and Apache attack helicopters.
The yacht's departure will take place as part of the Cumberland Regatta, a yacht race organised by the Royal Thames Yacht Club since the 1700s and arguably the world's longest running sports event.
The soldiers will be presented with their Operational Service Medals and coins to commemorate 7 PARA RHA's 50th anniversary on the quayside, as they are missing the Regiment's main medal parade, and a 105mm Light Gun will fire a salute as they depart.
Dignitaries in attendance include Susie Sheldon, the High Sheriff of the Isle of Wight and Lieutenant Colonel Gary Wilkinson OBE RHA, the Regiment's Commanding Officer.
HMSTV Endeavour is a Challenger 67 (22 metre) yacht used by the military's Joint Service Adventure Sail Training Centre for large offshore sailing expeditions.
She competed in the BT Global Challenge in the 1990s, which saw 14 identical yachts racing 'the wrong way around the world', sailing westwards against prevailing winds and currents.
Published 15 June 2011