Gunners return from Afghanistan on bonfire night
Children of 150 soldiers from 57 (Bhurtpore) Battery, 32 Regiment Royal Artillery (32 Regt RA), had more reason than bonfires and fireworks to remember the 5th of November this year as their parents returned from a six-month deployment in Afghanistan.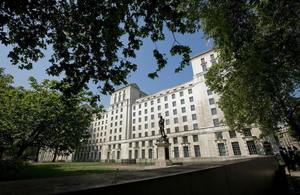 Over 300 family members and friends gathered at Larkhill in Wiltshire cheered, clapped and wept with joy as the Gunners marched around the corner, proudly formed up, and were then ordered to fall out to be reunited with them.
For most of the soldiers it was the third or even fourth tour they had returned from in the past five years. 32 Regt RA has provided batteries in Iraq and Afghanistan for the last nine years and 57 Battery's return meant that the whole regiment was all together for the first time in nearly a decade.
The task of 57 (Bhurtpore) Battery was to fly all three unmanned air systems, including the Hermes 450, day and night.
These 'spies in the sky' deliver a unique, precise and technological birds-eye view of what is going on around the area of operations, delivering real-time video to various locations in Helmand province.
Lance Bombardier Mark Bennett was returning from his third tour in Afghanistan since 2007, but this was the first time he came back as a father. His wife, Gaynor, gave birth to their son, Noah, three weeks after he deployed and he only saw him for the first time when he came back for two weeks' leave:
It was a good tour but this has made it extra special," he said. "I'm looking forward to getting to know him and spoiling him totally rotten.
It was the fourth time Nicky Soulsby had welcomed her husband, Staff Sergeant Richie Soulsby, back from Afghanistan in seven years of marriage, but she said it was always very emotional:
I'm absolutely over the moon - I haven't seen him since June and it's just fantastic he's back. I'm looking forward to getting some sleep and a few lie-ins now; he can take over the children for a few weeks.
32 Regt RA has been based in the Wiltshire area for the past 16 years and is one of only two UAS regiments in the British Army. It has had a battery permanently based overseas on operations since 2003.
To celebrate the regiment being together for the first time in nine years it is going to march through the city of Salisbury on Thursday 10 November and hold a service of thanksgiving in Salisbury Cathedral.
Published 8 November 2011