Gunners receive Afghanistan campaign medals
Personnel from the 3rd Regiment Royal Horse Artillery (3 RHA) C Battery have been presented with campaign medals after returning from a demanding six-month tour in Afghanistan.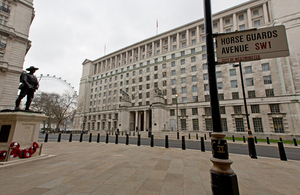 3 RHA is part of 7th Armoured Brigade - The Desert Rats, which supported 3 Commando Brigade during the tour to help prepare the Afghan Security Forces to fully take over the security of their own country by 2015.
Between March and September 2011, C Battery 3 RHA deployed from its barracks in Bergen-Hohne, in northern Germany, to Afghanistan, primarily to provide Artillery Fire Support to front line troops using 105mm Light Guns.
Based at forward operating bases and patrol bases across Helmand province, the gunners' work also included partnering members of the Afghan Army and taking on an infantry role going on patrols and manning sangers (guard watchtowers).
Lance Bombardier Stephen Buckley was part of a team of 14 men who successfully fought their way out of a three-hour fire fight during the tour which has since been dubbed 'The Battle of Compound 62'.
LBdr Buckley and the troops from Lima Company, 42 Commando Royal Marines, came under attack during a patrol from Taliban insurgents who had surrounded them.
Speaking after the medals parade, LBdr Buckley said:
You can't panic in these situations, you just fall back on your training; you can't let fear overtake you. When we got back to our base that's when we started to think about it.
The team finally made it out safely as an Apache helicopter gunship provided covering fire.
He added:
We were surrounded on three sides, and we thought we might run out of ammunition, but the air support came out in time.
LBdr Buckley, who took part in exercises in the UK, Germany, the Czech Republic and Canada in the run up to his deployment, was one of approximately 300 members of 3 RHA to deploy to Afghanistan over the last two years.
He added:
I went out on many patrols, and we came under fire on several occasions. I am glad to be back and very proud of the job we did out there. I am now looking forward to my leave and to seeing my family at home.
Over the last two years, 3 RHA has provided personnel for three separate tours of Afghanistan, and the parade marked the first time in that period that all the men and women of the Regiment could be together.
Lieutenant General Richard Barrons, Deputy Chief of the Defence Staff and a former Commanding Officer of 3 RHA, attended the parade and presented the soldiers with their medals.
He said:
This is a really significant day - it is the first time in two years that everyone has been back together. For me personally, it is very significant; ten years ago I stood here on this parade square as Commanding Officer 3 RHA for the last time.
It is important to remember how much the Regiment has done both in Iraq and in Afghanistan over the years. The Regiment has been in the thick of things and set standards that our Army, other armies and The Queen's enemies really respect.
Three tours in a row has been difficult. It has been scorching hot in the summer and freezing cold in the winter. You can all be proud of what you have accomplished.
Your country really respects what you have done and is grateful for it. You have done what your country has asked you to do.
And the families and the personnel who remained behind played their part as well. No one should be in any doubt how a successful tour depends on the support of family and the Rear Operations Group back home; and to them I would like to say thank you as well.
Published 31 October 2011