Gunners ready 24/7 despite progress in Helmand
As progress in Afghanistan continues British artillery guns are firing less than on previous deployments but Gunners like Jonathan Long remain ready to support troops on the ground 24-hours-a-day, seven-days-a-week.
Gunner Jonathan Long is on his first deployment to Afghanistan working as part of a gun detachment in southern Helmand. A member of 7th Parachute Regiment Royal Horse Artillery, he is currently based in the Nahr-e Saraj area of Helmand province with G Parachute Battery (Mercer's Troop).
The gun detachment he is part of provides offensive fire support to troops on the ground as they work to defeat Taliban elements and secure local communities, bringing them under Afghan Government control.
In the UK, the 21-year-old works in the mechanised transport department, which is responsible for maintaining and preparing all the vehicles that the busy regiment uses. These range from regular Land Rovers to gun-towing Pinzgauers and huge ammunition-transporting trucks.
In Afghanistan he works as part of a team that brings into action, performs vital maintenance on, and ultimately fires the L118 105mm howitzer artillery gun.
Gunner Long's specific role is as the 'Number 2' - this means that it is his responsibility to ensure the round is sufficiently rammed up the barrel, allowing room for the correct charge to be placed before it, so that the round can then be fired to the correct distance.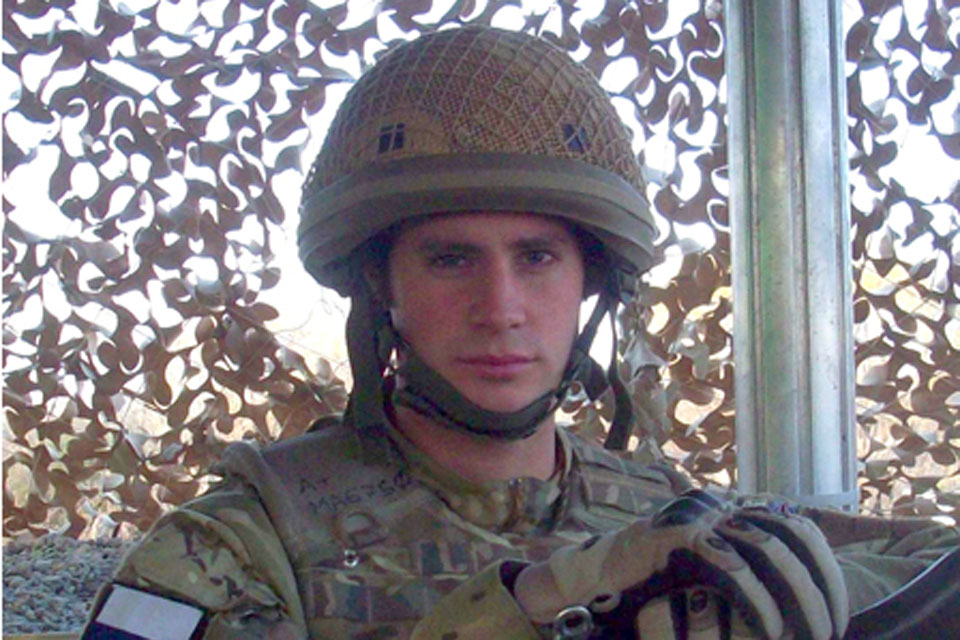 In addition to his primary role of working as part of the gun detachment, Gunner Long also helps provide security to his patrol base by manning the defensive sangars.
To do this he is fully trained on operating a variety of weapon systems, including his own personal SA80 assault rifle, the general purpose machine gun and the heavy machine gun.
Gunner Long said:
Although what I enjoy most when we're on exercise is firing a good rate of fire, I realise that the reason we are not doing that now we're in Afghanistan is that we're winning the battle and large amounts of artillery are rarely needed now.
The emphasis is much more on bringing about development in communities and making life more peaceful and normal for the Afghan people.
That said, I am sure that it is comforting to the lads out on the ground to know that we are always here and ready to support them if required.
Gunner Ryan Mark is another member of 7th Parachute Regiment Royal Horse Artillery.
He is working out of the Battle Group headquarters of 1st Battalion The Royal Irish Regiment, in the Nad 'Ali area of Helmand, within the fire planning cell.
This role involves talking to the troops on the ground, ensuring that they receive all the help they require when an incident occurs.
This means that, day-to-day, Gunner Mark operates a number of different complicated radio systems, as well as using the latest in satellite communication. He said:
Although we are a lot busier this time, we are firing a lot less artillery. The focus is on other things now, with less time spent fighting the Taliban and more time building communities.
From the British soldier's perspective, things are more comfortable too - all the forward operating bases are more developed, the living facilities are excellent now.
Gunner Ryan Mark's elder brother is also currently deployed to southern Afghanistan, although Corporal Daniel Mark is serving with 216 Parachute Signal Squadron and working within 3rd Battalion The Parachute Regiment's Battle Group headquarters in Nad 'Ali, so their paths are unlikely to cross.
Corporal Mark works as a shift commander in the operations room. He is responsible for the upkeep and monitoring of various hi-tech communications equipment, much of which his brother would be using if he were deployed to the same location.
This equipment is essential for maintaining command and control on a modern battlefield.
This is Corporal Mark's fourth operational tour since joining the Army in 2002. Previously he has performed similar roles in Iraq in 2004/5 and 2005/6, and more recently in Afghanistan in 2008. He said:
I have noticed the increase in co-operation we are receiving from local people - it's really good to see. People are definitely a lot more positive about things this time around because they can see that things have moved, and are continuing to move, in the right direction.
Published 11 January 2011