Gunner-turned-journalist returns from Afghanistan
A former Royal Artillery Gunner and veteran of Afghanistan has just returned from the country again after this time working there as a reporter.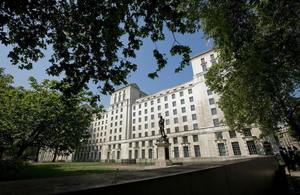 News reporter James Banks has been working in Afghanistan recently reporting for British Forces Broadcasting Service's (BFBS's) dedicated news programme, British Forces News.
James, who retired as a Captain in September 2010, previously deployed there in 2007 and 2009 as a young officer in the Royal Artillery, with the 32nd Regiment and the 40th Regiment. He also served in Iraq in 2005. James said:
My last tour of Afghanistan while I was still in the Army was in the summer of 2009 when I worked as a Fire Support Team [FST] Commander attached to the 3 SCOTS [3rd Battalion The Royal Regiment of Scotland] Battle Group.
As an FST Commander my job was to identify and co-ordinate the targeting of enemy positions by artillery, mortars, Apache attack helicopters and fast jets.
Returning as a reporter for British Forces News was a very different experience.
After leaving the Army, James enrolled at Cardiff University to study for a postgraduate diploma in Broadcast Journalism, and then joined BFBS as a trainee reporter, deploying to Afghanistan earlier this year. James said:
To return to Afghanistan was incredibly rewarding. It had always been an ambition of mine to return as a journalist, but to do so only two years after serving there as a soldier was incredible.
At one point I conducted an interview in a compound that two years before had been a Taliban position and one that I had engaged with artillery fire. To see how the country has progressed and report on it as someone who's been there both as a soldier and as a journalist was a real privilege.
James grew up in Newport, where he attended Moorfield County Primary and Adams' Grammar Schools before moving to Welbeck Defence Sixth Form College to study for his A-levels.
He then studied for a degree in Information Systems Management at the Royal Military College of Science in Shrivenham before attending the Royal Military Academy at Sandhurst and commissioning into the Royal Artillery. He added:
As it's only been two years since I left the Army I frequently bump into former colleagues and have to explain why I'm not in uniform. Then of course once they see me on TV I have to deal with some mocking and banter!
James is now working on a new challenge with BFBS as the Olympics Security Correspondent for British Forces News. He said:
To be given the opportunity to report on the Olympic Games is a real privilege. This summer we will see the biggest deployment of our Armed Forces since World War Two; as a result I'll not only be reporting on the sporting achievements of our Armed Forces but also the vital roles they will play behind the scenes at London 2012.
I'm in no doubt that it will be an extremely busy but memorable summer.
You can follow James on Twitter @tweetingbanksy and watch him in action on British Forces News, weeknights at 1830hrs (Central European Time) on BFBS1 and at 1830hrs UK Time on Information TV, via Sky Channel 231 and Freesat Channel 402, and on the British Forces News website.
Published 1 May 2012