News story
Gulf mine warfare exercise
Six Royal Navy and 2 American ships, plus helicopters and mini-robot submarines, have joined forces for the year's first major mine warfare exercise in the Gulf.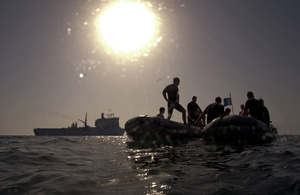 Three of the UK's 4 Gulf-based minehunters - HM Ships Quorn, Ramsey and Shoreham, their mother ship Royal Fleet Auxiliary (RFA) vessel Cardigan Bay, and 2 Royal Navy frigates - Northumberland and Monmouth, linked up with US forces for 8 days.
The aim of the training with American Avenger Class minehunters USS Scout and Devastator was to sweep a corridor of sea free of mines so a (fictional) important ship could safely sail through it.
Before there could be any thought of beginning the training however, the force had to wait for a shamal to pass - a seasonal wind which blows across Iraq, Kuwait and Saudi Arabia bringing sand and dust.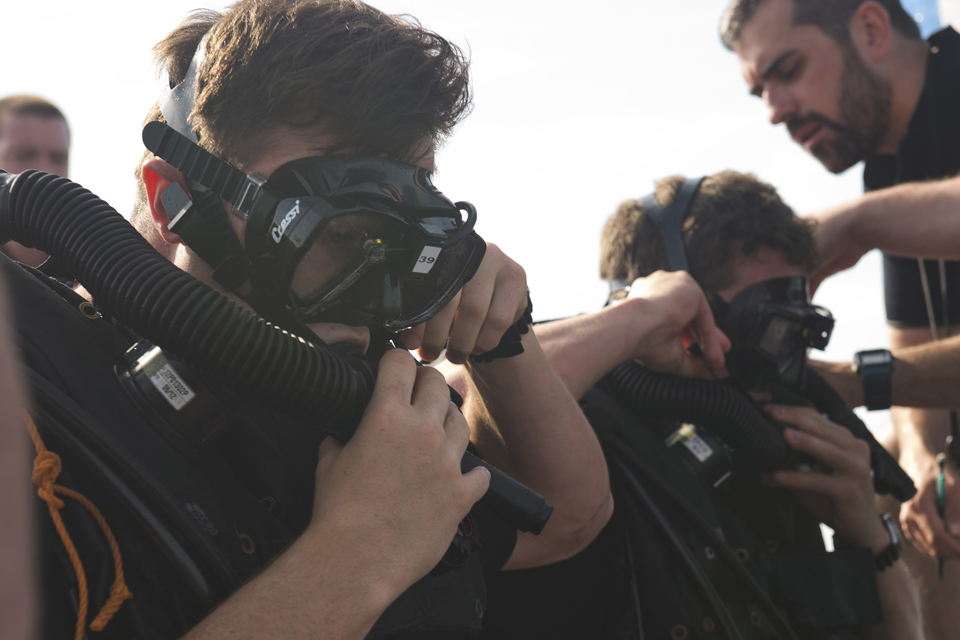 At worst, that means sandstorms; at best, the high levels of dust in the air can severely reduce visibility, putting great strain on bridge teams as small vessels often do not loom out of the gloom until they're particularly close.
Once the storm had passed, the exercise could begin, directed from RFA Cardigan Bay by the Royal Navy's Commander Jim Buck and mine warfare battle staff.
Cardigan Bay is currently serving as the support vessel and command ship for the Royal Navy's Gulf minehunting force and, for this 8-day workout, she had on board an additional 70 personnel, 2 US Navy sea boats and underwater unmanned vehicles (mini-robot submarines) and associated kit.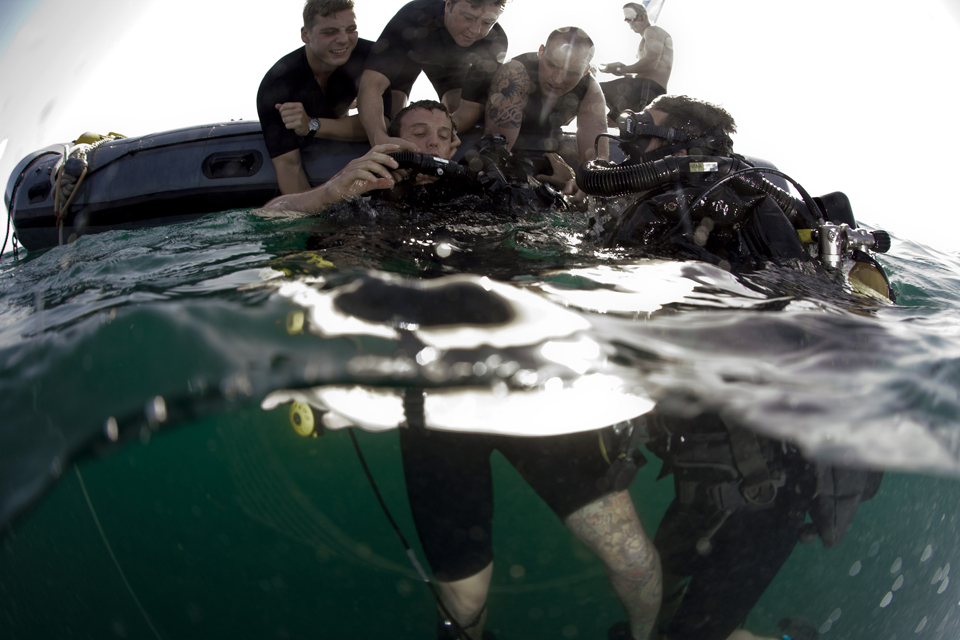 This allowed the force to use the full range of minehunting skills and equipment, such as the Royal Navy's 'Sonar 2193' which can detect objects on the seabed as small as a tin can, the Seafox submersible which identifies and destroys mines, Fleet Diving Unit 3, who are experts in bomb disposal, and clearance divers from HMS Atherstone.
The divers and submersibles made use of Cardigan Bay's loading dock, floating in and out of the cavernous feature on sea boats, while US Navy Seahawk helicopters flew on to and off the ship's flight deck.
While the mine warfare teams were doing their bit frigates Northumberland and Monmouth entered the fray to test Cardigan Bay's responses to attacks.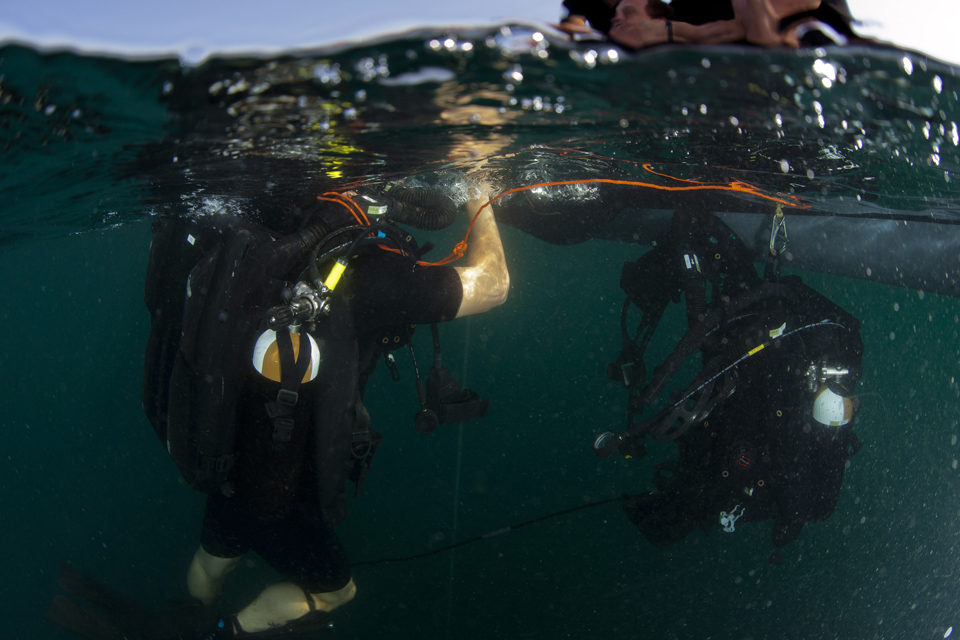 These forays were met with stiff resistance from the ship's company, plus US Riverine patrol boats, which were acting as protection for the task force.
Captain Paul Minter, Commanding Officer of RFA Cardigan Bay, said:
Once again Cardigan Bay and her crew have shown themselves to be fully capable of supporting coalition warships in a demanding operational theatre. We've demonstrated our versatility as an integral part of the naval presence in the Gulf region.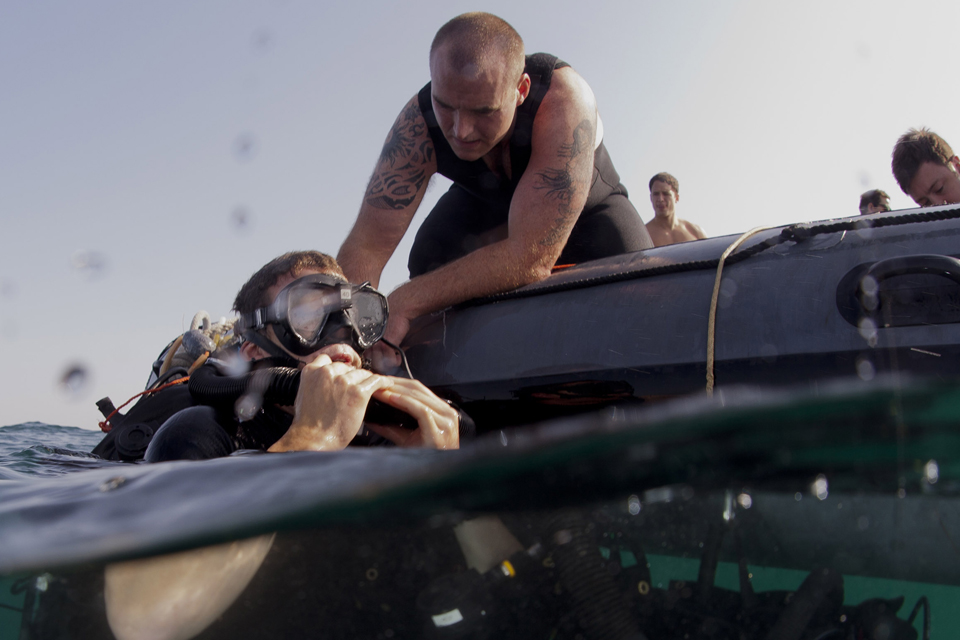 The 8-day exercise was part of an intensive period of training for the Royal Navy's Gulf-based mine warfare forces leading up to a major exercise in May.
Navies and forces from more than 20 nations spanning 4 continents will come together for International Mine Countermeasures Exercise 13, the biggest event of its type in the Middle East region.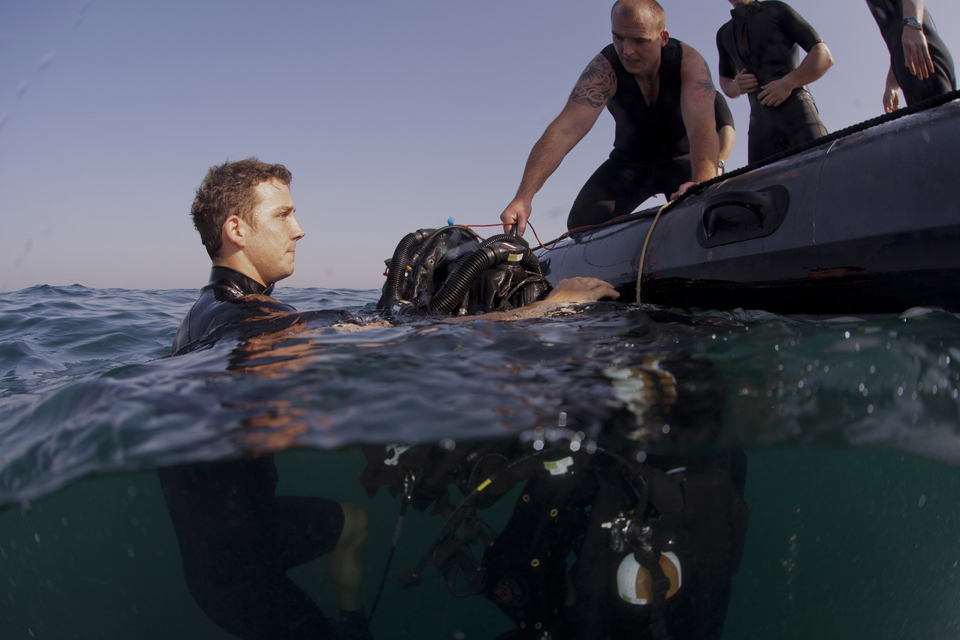 Published 1 March 2013