World news story
Guatemalan Army officers receive English language training in the UK
The Defence Attaché at the British Embassy in Guatemala sponsored the participation of two Guatemalan Army officers to attend a 12-week course at the British Military English Course (BMEC) at the College of Language and Culture, within the UK's Defence Academy in the UK.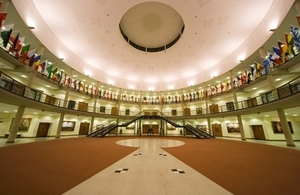 The objective of the BMEC is to improve the level of English of international students, including civilians and army officers, so they can reach the standards of the North Atlantic Treaty Organization (NATO). This will allow the students to communicate in international operations where the working language is English.
The course covers military vocabulary, grammar, essay drafting, conversation, and presentation and reading skills. Their stay also included visits to places of cultural and military interest. The Guatemalan Army officers have been in the UK since the end of September 2016.
The BMEC helps develop four essential skills: oral expression, audio comprehension, redaction and writing comprehension. All of these are important in diplomatic defence interactions, and the students receive intense training simulating day-to-day military scenarios that require putting in practice the acquired skills.
The British Defence Attaché, Colonel David Strawbridge MBE, said:
It's an honour for the UK Ministry of Defence to contribute to the strengthening of allied armed forces' staff through training and skills development for their officers. Mastery of the English language will allow greater participation in a number of collaborative areas with international allies, and will result in improved experiences for future deployments, talent diversification and strengthening of ties within involved nations.
Published 20 December 2016