World news story
Guatemala celebrates 450 years of Shakespeare
The work of British playwright, William Shakespeare, arrives to Guatemala with a presentation of Hamlet, on 14 August in Antigua Guatemala.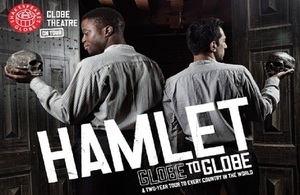 The show is part of Shakespeare's Globe project that is visiting each country in the world to commemorate 450 years of the author's birth.
The Hamlet Globe to Globe tour opened at Shakespeare's Globe in London on 23 April 2014, the 450th anniversary of Shakespeare's birth. This completely unprecedented theatrical adventure will see Hamlet tour to every single country on earth for two years.
Sixteen extraordinary men and women will travel across the seven continents, performing in a huge range of unique and atmospheric venues. In Guatemala, the play will take place at the Cerro Santo Domingo of Antigua. The show will have a cost of Q240 for the benefit of the educational programme and rescue of Lake Atitlan of the Rotary Club Guatemala Vista Hermosa.
The British Ambassador to Guatemala, Sarah Dickson, said:
This will be a unique opportunity for Guatemalans to see one of the most famous plays in the world, directly from London's theatres. The natural scenery in Cerro Santo Domingo makes it the perfect location for this dramatic and tense play. I hope that people will join us in this global production and help us to celebrate Shakespeare's birthday.
Over summer 2014, Hamlet will tour around the USA, Canada, Central America, and the Caribbean, to 26 venues including the United Nations Headquarters in New York, Washington's Folger Shakespeare Library, the Mayan ruins of Copán in Honduras, and the majestic Teatro Nacional de El Salvador, amongst other places in the Caribbean and South America. The play is presented in English.
For more information about the ticket sales please call (502) 2422-5555, or visit this webpage
For more information about the project Globe to Globe, features, cast and latest news, please visit their site
Published 6 August 2014