Guaranteed support for victims of crime
Victims of crime will now be able to hold the criminal justice system to account.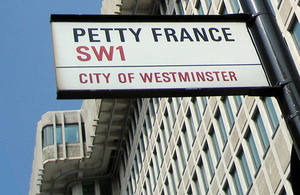 Victims of crime will now be able to hold the criminal justice system to account for the support it provides and be backed by a clear set of entitlements thanks to a statutory new Victims Code, Victims' Minister Helen Grant announced today.
A simple new Code – written for victims rather than the 'System' for the first time - has today been put out to consultation to ensure it gives victims what they need. It tells people what they can expect from the moment they report a crime to the end of a trial, and who to demand help from if it is not provided.
The Code will also ensure extra support for victims of the most serious crimes and offer specialist help to young victims.
The Code will:
make sure victims of the most serious crime, the most persistently targeted victims or the most vulnerable/intimidated victims receive extra help and support - including pre-trial therapy and counselling and access to support services to help them cope and recover
give victims a louder voice. For the first time it will provide all the information needed for a victim to tell the court about the effect a crime has had by providing a Victim Personal Statement. Victims who give Personal Statements report this helps them immensely, but previously information about how to give one was provided on an ad hoc basis which saw very low take-up rates. The Code will tackle this postcode lottery and incentivise much better use across England and Wales
be written for victims, not the system, to make sure they receive all the help and support they deserve, every step of the way
ensure a right to redress by making all criminal justice agencies have a clear, accessible complaints system to deal with problems quickly and properly and point victims in the direction of the Parliamentary and Health Services Ombudsman where further action is needed
provide a specialist support and advice designed to help young (under 18) victims of crime and their guardians so they are better prepared for what to expect from the criminal justice system
Now all victims are automatically offered support once they have experienced a crime, but in 80 per cent of cases victims don't want this. For instance, someone who has their phone stolen from their bag probably doesn't want to be referred for help.
Instead we now propose automatically offering help to those who most need it, such as victims of the most serious crimes. However any victim of any crime continues to have an entitlement to support and will be able to get help if they want it.
Victims' Minister Helen Grant said:
'Victims must have more help navigating a confusing and often intimidating Criminal Justice System. Too often they tell us they feel they are treated as an afterthought or that 'system' made their already horrific experience worse.
'I have always been clear we must put a stop to this, and make sure victims of crime are treated with the care they deserve. This total revamp of the Victims Code has been one of my main priorities and I have heard from victims just how important getting this right is.
'Victims' will now be able to understand and prepare themselves for their entire journey through the criminal justice system, from reporting the crime to after the trial. It easily explains what they should expect from the system, and who to demand help from if it is not being provided.
'It is one of many measures I am introducing to make sure the 'system' starts to put victims first.'
Notes to editors
For more information contact the Ministry of Justice press office on 0203 3343540.
The consultation on the new Victims' Code opened on 29 March and will close on 10 May.
Consultation events will be held at Broadway House Conference Centre in London on 15th April (10am-1pm) and at The Queens, in Leeds on 30 April (10am-1pm). To register, email partners@justice.gsi.gov.uk by 9 April.
Published 29 March 2013