News story
Growth and fairness at heart of business legislation
The two Bills planned for the next session of Parliament are the Enterprise and Regulatory Reform Bill, and the Groceries Code Adjudicator Bill…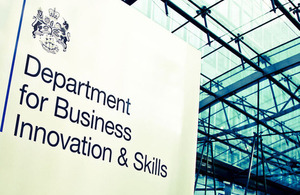 The two Bills planned for the next session of Parliament are the Enterprise and Regulatory Reform Bill, and the Groceries Code Adjudicator Bill
Business Secretary Vince Cable said:
"Securing economic growth through business investment and trade is absolutely essential to recovery. Government's plans to cut red tape, boost green investment, reform the competition landscape and reform the banks are vital moves that would help strengthen the business environment and boost consumer and business confidence."
The Queen's Speech set out the Government's plans for two business Bills:
The Enterprise and Regulatory Reform Bill, which would:
overhaul the employment tribunal system and transform the dispute resolution landscape.
improve the effectiveness and efficiency of competition enforcement and the competitiveness of markets by strengthening the regime and improving the speed and predictability for business

set the purpose of the UK Green Investment Bank and ensure its independence to help accelerate private sector investment in the UK's transition to a green economy.

strengthen the framework for setting directors' pay by introducing binding votes

extend the Primary Authority scheme, reduce inspection burdens on business and strengthen the legal framework for sunset clauses on regulation

repeal unnecessary legislation, cutting the burden on business and citizens.
And the Groceries Code Adjudicator Bill that would:
create a Groceries Code Adjudicator (GCA) to uphold the Groceries Code to address the market dominance of the large retailers and ensure suppliers are treated fairly and lawfully.
The GCA would address these competition issues by arbitrating disputes between retailers and suppliers, investigating anonymous complaints, taking sanctions against retailers who break the rules.
BIS will be jointly introducing, with the Department for Education, a Bill for shared parental leave and flexible working.
BIS co-commissioned with the Treasury the Vickers Report which is leading to legislation to split investment bank and traditional banking.
It is expected that both BIS Bills would receive an early introduction.
**Notes to editors
**BIS's online newsroom contains the latest press notices, speeches, as well as video and images for download. It also features an up to date list of BIS press office contacts. See http://www.bis.gov.uk/newsroom for more information.
Notes to Editors
Contact Information
Name BIS Press Office Job Title
Division Department for Business, Innovation & Skills Phone
Fax
Mobile
Published 9 May 2012