Ground-based air defence systems to protect Olympic sites
The Government has today confirmed that ground-based air defence systems will be deployed at six sites in and around London for the duration of the 2012 Olympic Games.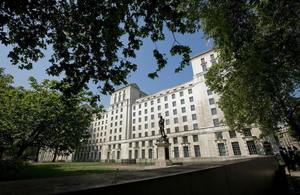 As part of the Ministry of Defence's wide-ranging support to the police-led Olympics security effort, the Defence Secretary announced last year that an air security plan had been drawn up which included the potential deployment of Rapier and high velocity missile systems, primarily to protect the Olympic Park.
In early May, as part of a military exercise, unarmed equipment was put in place at the six proposed sites for a period of nine days. This saw the air security plan tested extensively and confirmed the utility and integration of the various elements.
As a result, based on military advice, the Government has now agreed to the deployment of ground-based air defence systems - including Rapier and high velocity missile systems - at the six locations for the duration of the Games.
The systems will be in place by mid-July, along with other Defence equipment including Royal Navy helicopter carrier HMS Ocean, which will be moored in the River Thames, Royal Air Force Typhoon jets, which will be temporarily stationed at RAF Northolt, and Puma helicopters at a Territorial Army centre in Ilford.
Defence Secretary Philip Hammond said:
Whilst there is no reported threat to the London Olympics, the public expects that we put in place a range of measures aimed at ensuring the safety and security of this once-in-a-generation event. Ground-based air defence [GBAD] systems will form just one part of a comprehensive, multi-layered air security plan which, I believe, will provide both reassurance and a powerful deterrent.

We have undertaken a wide programme of engagement with the communities affected, involving relevant local authorities, landowners, MPs, council leaders and community meetings. These have shown that, while people understandably have questions and concerns which we have sought to answer, broadly speaking communities are supportive of our work.

A small number of activists object to the deployment of these defensive measures and a legal challenge to the Government's decision to deploy GBAD has been initiated. The MOD will defend these proceedings vigorously and is confident of defeating them.
Home Secretary Theresa May said:
Our focus is to deliver an Olympic and Paralympic Games that London, the UK and the world can enjoy. The Games should be a peaceful celebration of sporting achievement and cultural celebration.

But this is the biggest sporting event in the world, and with that comes the huge responsibility to deliver it safely and securely. We are working to a robust safety and security strategy and we will leave nothing to chance.

The police and emergency services have substantial experience of major events and will bring this to bear with support from the military. Our approach is intelligence-led and risk-based, and flexible to respond to changes between now and the Games.
Collectively, the systems include a range of air defence capabilities, including radar and detection equipment as well as weapons, which will provide a powerful deterrent and protection against the threat of an attack from the air. Similar systems have been deployed at all recent Olympic Games.
Some 100 sites were considered as part of early planning but this was narrowed down to the six final sites which were deemed to offer the best possible protection to the Olympic Park and surrounding area against any air threat.
The sites, and the specific systems to be deployed at them, are:
• Lexington Building, Fairfield Road, Bow, Tower Hamlets - High Velocity Missile
• Fred Wigg Tower, Montague Road Estate, Waltham Forest - High Velocity Missile
• Blackheath Common, Blackheath (Lewisham/Greenwich) - Rapier
• William Girling Reservoir, Lea Valley Reservoir Chain, Enfield - Rapier
• Oxleas Meadow, Shooters Hill, Greenwich/Woolwich - Rapier
• Barn Hill, Netherhouse Farm, Epping Forest - Rapier.
Published 3 July 2012