Grob Tutor crash inquiry findings published
The Service inquiry findings into the loss of the Grob Tutor aircraft, which resulted in the deaths of Flight Lieutenant Mike Blee and Cadet Nicholas Rice in June last year, have been published today.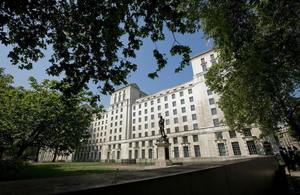 Minister for Defence Personnel, Welfare and Veterans, Andrew Robathan, announced the publication of the findings to the House of Commons today. In a written ministerial statement he said:
I wish to inform the House today of the findings of the Royal Air Force Service inquiry into the loss of Grob Tutor G-BYXR on 14 June 2009 in Oxfordshire.
Tragically, the Volunteer Reserve Pilot, Flight Lieutenant Mike Blee, and Combined Cadet Force (CCF) Cadet Nicholas Rice were killed. Our deepest sympathies remain with their families and friends.
The purpose of a Service inquiry is to establish the circumstances of the loss and to learn lessons from it; it does not seek to apportion blame. The Service inquiry was convened on 15 June 2009 and has now presented its findings.
The Service inquiry found that on the afternoon of the 14 June 2009, Grob Tutor G-BYXR departed from RAF Benson to conduct an air experience flight for the CCF Cadet. The aircraft was involved in a mid-air collision with a civilian standard Cirrus glider. The civilian glider pilot parachuted to safety with only minor injuries.
The Service inquiry was able to identify the sequence of airborne events and concluded that the cause of the accident was the controlled flight of Grob Tutor G-BYXR into the glider.
Five contributory factors were identified including the medical condition of the pilot and supervision arrangements.
The RAF has apologised privately to the bereaved families for the shortcomings in its supervisory processes and I wish to restate that apology today.
The Service inquiry panel made a total of 18 recommendations primarily relating to procedures, equipment and training. 12 of these recommendations have already been implemented and the remaining six recommendations are under active consideration.
Published 14 September 2010