Grenadier Guards train for Helmand
The soldiers, who are deploying with 12 Mechanized Brigade on Operation HERRICK 16, will be based in the Gereshk area of Helmand province where…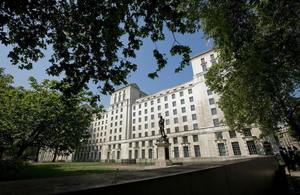 The soldiers, who are deploying with 12 Mechanized Brigade on Operation HERRICK 16, will be based in the Gereshk area of Helmand province where they will be working closely with the Afghan security forces in a mentoring role.
Major Dominic Alkin, Officer Commanding Inkerman Company, 1st Battalion Grenadier Guards, said:
Gereshk is an important market town in Helmand. It's where a lot of the important economics of Helmand revolve around and flow through, so there is a lot being done there towards security and infrastructure.

Our job will be to help take that forward and set up a future for the local population without coalition forces.
"But it's a dangerous place and it's a dangerous job, so part of the training was to mitigate those risks. We've been practising our skills and drills for the past six months and this was the final opportunity to make sure everything goes well. It's an excellent opportunity to leave on a high knowing that we are deploying in good order."
Many of the soldiers will be deploying to Afghanistan on their second, third and even fourth tour, but still recognised the importance of the final exercise.
Guardsman Babou Jobe, who is returning to Helmand on his second operational tour, said:
Out there in Afghanistan you only have one chance to do everything right so you have to work hard in training - especially with drills in searching for IEDs because it's things like that that save our lives, and save our mates' lives.
I am nervous about going back because every tour is different. My last tour was HERRICK 11 [October 2009 to March 2010], over the winter, but this tour is over the summer when there tends to be more IEDs. That's my worry. It's my only worry to be honest as I'm looking forward to working with the Afghans again.

Last time you would see a child on the street during the day and ask them why they weren't at school, and they would say 'no! Taliban', or you would see locals with no access to clean drinking water. So it's rewarding to know we are changing that.
Major Alkin added:
We are going to be joining the HERRICK campaign at a period when it is deep into transition.

Many of the areas have been handed over already and during our tour we will be handing over more areas to the Afghans to take responsibility for. I think it's wrong to assume that it is going to be an easier tour than previously. Things will be different, and I am sure the pressure will be on till the end.

But I think the men are genuinely excited about going out there and doing what they have been trained to do. I think it is going to be the pinnacle of many people's military careers in terms of the operational experience - certainly for the foreseeable future.
Published 28 February 2012