News story
Greg Clark: Chanukah message
The Secretary of State Greg Clark sends a message of good wishes for the Jewish holiday.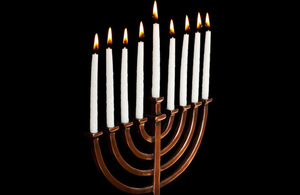 Communities Secretary Greg Clark said:
As the Jewish community commemorates the miracles of the Chanukah story, this festival of light also offers an opportunity for the whole nation to reflect on the considerable contribution that Jewish people make to the United Kingdom.

This was demonstrated to great effect last month on Mitzvah Day, when thousands of people from all backgrounds across the country went out and volunteered their time, in order to help others in their neighbourhoods, inspired by Jewish values. A typical example of your community's generosity, and a gift for everyone, in its lesson of how to live well, together.

So I would like to send my best wishes for a Happy Chanukah to those gathering with friends and families to light the menorah in the coming days. Enjoy this very special time of year.
Published 6 December 2015