News story
Greg Barker's article in the Times Low Carbon Business supplement, 1 September 2010
Thriving, innovating and high growth low carbon businesses will be the hallmark of a globally competitive, twenty-first century economy. That…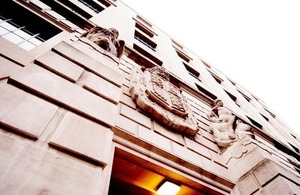 Thriving, innovating and high growth low carbon businesses will be the hallmark of a globally competitive, twenty-first century economy.
That's why I believe that Britain's success in emerging from recession will be judged, in part, by how successfully our country and economy moves away from its reliance on expensive and polluting fossil fuel towards a leaner, cleaner and more energy efficient model.
One of the new coalition Government's crucial challenges is to ensure that what emerges from the recession is a stronger economy; prepared for the challenges of the coming decades. An economy that is more broadly based and more resilient. We need to build a low-carbon economy that will drive economic recovery, deliver energy security and meet our ambitious climate-change targets.
Leaner and greener businesses across the country are therefore not just an exciting example of Great British innovation, they are a non-negotiable part of our long-term economic recovery.
The coalition may have an ambitious vision but the government also has a clear role to play to help create the right conditions which will allow these emerging industries that hold the promise of renewed growth and jobs to thrive and prosper.
We know that the green economy is a massive new business opportunity with tens of billions of pounds of investment heading for this sector and tens of thousands of green jobs up for grabs over the next decade. The shift to a low carbon economy represents a huge opportunity for UK exports too. The global market for low carbon goods and services is currently worth £3.2 trillion and is estimated to grow to over £4 trillion by 2015.
But the 'green economy' is not just about the ability to produce clean energy, it's also about growing the market for products that consume less energy. It is increasingly clear energy efficiency will be a key benchmark of a globally competitive company in the new century.
Within the first one hundred days we have already taken action to fulfil the Prime Minister's pledge for this to be the greenest government ever. We are working to create a Green Investment Bank to help boost low carbon investment, creating jobs and prosperity as the economy recovers.
In the recent Budget, we announced plans to consult on reforms to the Climate Change Levy to provide more certainty and support to the carbon price.
We are also pressing in Europe for an increase in the EU emissions reduction target from the current 20 per cent by 2020 to 30 per cent which will add confidence to low carbon investors, and pushing for further energy market reforms to promote low-carbon generation.
In the autumn we will introduce legislation for the Green Deal - a radical, game changing, way of improving energy efficiency in all properties affordable to all. By creating a new market opportunity for private sector finance we will provide another major opportunity for growth and employment with tens of thousands of jobs likely to be created in the home insulation market alone by 2020.
An ambitious plan to make the leap to a more efficient, low carbon economy is not without risk. But it represents Britain's best opportunity to reassert global industrial leadership. Britain's best companies, entrepreneurs, and skilled workers have never been afraid of change. Now is the time to lead the new industrial revolution and reap the benefits in the decades ahead.
Published 1 September 2010