Greg Barker'??s Climate Week visit to Yorkshire
(Click on the pins to see details of Greg Barker's visit to Hull and Sheffield) Greg Barker was in Hull and Sheffield on Monday as part of …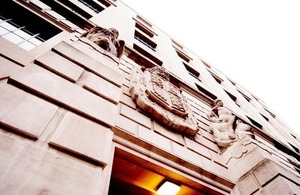 (Click on the pins to see details of Greg Barker's visit to Hull and Sheffield)
Greg Barker was in Hull and Sheffield on Monday as part of a regional visit to mark the beginning of Climate Week.
He began his visit at Hornsea School, an eco-school in Hull. Hornsea has an Eco-Team (staff and students) and has planned and delivered a number of green activities and initiatives, including a highly successful Green Britain Day.
During his visit the Minister saw Year 9s (13 and 14-year-olds) designing wind turbine blades as part of workshops run by the Humberside Engineering Training Association (HETA).
He then took part in a Q&A session, where 16 and 17-year-old students quizzed the Minister on issues ranging from the need for a global treaty, to the technologies that should be part of our energy mix, and how to tackle rising energy bills.
Mr Barker stressed how impressed he was with what he had seen - not just a school getting young people to think outside the traditional curriculum, but school and industry working in partnership to raise awareness and hopefully inspire their young people towards the jobs of the future.
From Hornsea Mr Barker travelled by train to Sheffield to see first-hand the excellent work done by Sheffield Council in improving the energy efficiency of its housing stock.
The Minister was shown a mid terrace property that had had loft and cavity wall insulation installed as part of the 'Free Insulation Scheme', before taking part in a roundtable discussion on Green Deal and ECO policies with private sector, LEP, social landlords, university and Council representatives.
Delegates shared their views and discussed the challenges they face as they work on implementing energy efficiency measures, and planning for the green deal, especially where fuel poverty issues are involved.
Published 1 May 2012