Press release
Greening urges visitors to plan ahead during Weymouth and Portland Olympic sailing events
Secretary of State for Transport Justine Greening says plan ahead when visiting Weymouth and Portland for the Olympic and Paralympic games.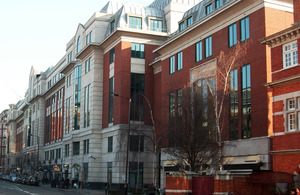 People visiting Weymouth and Portland during the Olympic and Paralympic games this summer should plan ahead and not leave their travel and accommodation arrangements to the last minute, according to Secretary of State for Transport Justine Greening.
She made the comments during a visit to Weymouth and Portland today (11 June 2012) to view preparations for the Olympic and Paralympic sailing events.
Overnight accommodation is still available in the area, but Olympic visitors planning to attend should book now or risk disappointment.
She also urged people travelling by car for the day to pre-book spaces at the temporary park-and-ride sites now and those intending to travel by rail or coach to book their seats now. Those driving into the area for a few days or more should check on the availability of parking in advance with where they are staying.
Justine Greening said:
I want to make sure that everyone - visitors, businesses, hoteliers and others - makes the most of the games coming to Dorset.

Weymouth and Portland will be a great Olympic location and we want people to come and enjoy the experience.

But with the area being so popular anyway as a tourist destination, when you add in the Olympics it will be exceptionally busy. To help minimise congestion on the roads, it is vital that people plan ahead. So however you're planning to get to Weymouth, don't wait - sort out your travel plans now and make sure you're ahead of the game for a fantastic summer of sport.
Locally, residents and visitors alike are being encouraging to walk, cycle or use public transport and consider car sharing where that is an option.
Olympic Board chair and transport spokesperson Angus Campbell explains:
We have been planning our Olympic transport operation for the last 4 years, with all agencies working together to make sure road networks run as smoothly as possible, minimising disruption for local residents and businesses.

Hosting the Olympic and Paralympic sailing events has enabled us to make huge road and transport improvements across the borough, with more than £120 million invested in projects such as the Weymouth Relief Road, intelligent traffic light systems and real-time bus passenger information screens.
We have not hosted anything of this scale in Dorset before so this summer will be "business as unusual". I'd urge everyone to plan their travel and think about their journeys in advance.
Commenting on the preparations so far, Justine Greening said:
Having seen all of the hard work being carried out first hand, I am confident that no effort is being spared to get everyone where they need to be.

But no doubt a lot of hard work remains ahead of us in order to deliver what will be a fantastic Olympic and Paralympic Games.
Notes to editors
To book accommodation visit www.visit-dorset.com.
Weymouth and Portland transport fact sheet
What is happening?
sailing events are taking place
When?
29 July to 11 August
Earliest start: 12:00 noon
Latest finish: 6:20pm
How many spectators do we expect on the busiest day?
we expect 4,600 at the Nothe (ticketed) on the busiest day
we expect 14,999 at the live site (unticketed) on the busiest day
How do we expect spectators to get there?
day visitors (45% of total)
30% park and ride
8.5% rail
6.5% direct coaches
local residents or holiday makers (55% of total)
15.5% walking (local residents or holiday makers)
14% local bus
balanced by park-and-ride/taxi/cycle
In terms of park and ride, there is capacity for 25,000 spectators in 4 locations:
Kingston Maurward (Weymouth North): capacity for 8,000
Monkey Jump (Weymouth West): capacity for 7,800
Littlemoor (Weymouth East): capacity for 5,500
Mount Pleasant for spectators only: capacity for 3,400
In terms of rail, the nearest rail station is Weymouth, where the following services will be offered:
from monday to saturday, for arrivals by 12 noon, there will be up to 18 trains with a capacity of 8,300 spectators
on sunday, for arrivals by 12 noon, there will be up to 11 trains with a capacity of 5,000
There is a 20 minute walk from the station to the live site and 40 minute walk to the Nothe. Spectators can hire a bicycle or take a taxi from the station to a temporary taxi rank at the Nothe.
Accessible shuttles
Accessible shuttles will run from Mount Pleasant park-and-ride and Park Street to the venue every 15 minutes.
Direct coaches will operate between the following towns and Weymouth:
Bristol
Taunton
Swindon
Bath
Oxford
Didcot
Salisbury
Plymouth
Exeter
Bournemouth
Poole
Southampton
Coach parking
There will be parking spaces for 30 coaches.
Sustainable transport
There will be free secure cycle parking at 4 sites:
Swannery transport hub
Westham Bridge
the Nothe
Brunswick Terrace (north end of esplanade)
Walk and cycle information maps will be prepared for use by spectators and cultural event visitors.
Weymouth has a well-developed local network of walking and cycle routes, the focus of which is a disused rail line called the Rodwell Trail. This network is currently being improved and will have new infrastructure, including a new foot and cycle bridge, by games-time.
Related documents
Media enquiries
Media enquiries: Newsdesk (Monday to Friday, 8am to 7pm)
020 7944 3021

Urgent media enquiries out of hours
020 7944 4292

The Department for Transport press office only deals with enquiries from the media.

If you're not a member of the media, please use the switchboard line
0300 330 3000
Published 11 June 2012