Press release
Greening: United we have the greatest impact on world poverty
Development Secretary praises Scottish NGOs and recognises commitment of DFID staff based in East Kilbride.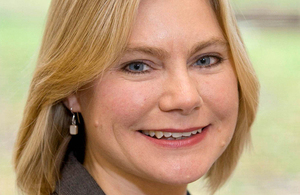 Scotland's record of improving the lives of the world's poorest people will be much diminished if the United Kingdom is split up, Justine Greening said in Glasgow today.
Speaking at a major development conference, the UK International Development Secretary praised Scottish NGOs for their continued efforts and recognised the deep commitment of the 600 DFID staff based at the department's joint headquarters in East Kilbride.
Justine Greening said: "Over the past three years, thanks to the work of the United Kingdom, 6 million children across the developing world have received a primary school education, 20 million people have access to clean water and 22 million children have been immunised against killer diseases.
These achievements belong to all of us. Scottish civil society, and Scotland as a whole, can be proud of the immense contribution made with, and through, DFID.
Britain has a far bigger impact on the lives of the world's neediest people precisely because we have been united in this work.
She added:
As the world's second biggest aid donor the UK can make truly transformative interventions, as economies of scale enable us to squeeze the maximum value for money out of every penny we spend.
As one of five permanent members of the UN Security Council, and with our own place on the board of the World Bank, the UK can ensure core values shared right across the whole of the UK are reflected at the top of these vital global institutions.
As a United Kingdom, we shape rather than follow the global development agenda.
Yesterday (Wednesday) the Office for National Statistics confirmed that the UK has become the first G8 country to meet the longstanding UN target of spending 0.7% of national income on international development.
Ms Greening also announced an extra £10 million to fund partnerships between NHS hospitals, universities and health institutions from across the UK and their equivalents in poor countries.
The extra funding will allow the UK's successful Health Partnership Scheme to run until 2017. The scheme uses the skills of UK health professionals to train, mentor, and coach their counterparts in developing countries. The University of Edinburgh has already taken part, helping improve palliative care in countries across Africa.
Ms Greening was speaking at the 'Scotland and Post 2015' conference in Glasgow, coordinated by the Network for International Development Organisations in Scotland (NIDOS), CIFAL Scotland and the Centre for Sustainable International Development at the University of Aberdeen.
General media queries
Follow the DFID Media office on Twitter - @DFID_Press
Published 3 April 2014