News story
Greening: UK to stay the course in Sierra Leone
Britain has reaffirmed its commitment to help end the Ebola outbreak and support the long term recovery of Sierra Leone, Development Secretary Justine Greening said today.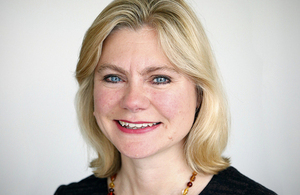 Speaking at the UN Secretary General's International Conference on Ebola Recovery in New York, Justine Greening announced a new 2 year package to support the government of Sierra Leone in its plan to recover from the outbreak. This includes:
boosting capability to respond to future Ebola outbreaks
generating sustained economic growth through investment in the private sector, which will create jobs and open up markets for UK businesses
improving basic services such as healthcare and creating opportunities for girls and women and
improving governance including the capacity of the public sector to deliver services and helping to increase transparency and accountability.
Justine Greening said:
Ebola brought terrible suffering and loss to West Africa, claiming thousands of lives, devastating communities and temporarily crippling the economy.

The UK can be immensely proud of its lifesaving work leading the international humanitarian response in Sierra Leone. Working hand in hand with Sierra Leone's government and people, Britain is supporting the country through every step of the epidemic.

As the fight to fully defeat Ebola continues, and Sierra Leone gets back on its feet, we will remain firm in our commitment and support. Our long-term help will improve basic services, restart the economy and protect the people most affected by the outbreak, helping to build a stronger, more prosperous country.
The UK's £240 million aid package for Sierra Leone and £6 million for Liberia will support Sierra Leone and Liberia's own two year Ebola Recovery Strategies presented at today's conference.
Background
The UK has led the international response to the Ebola crisis in Sierra Leone. As part of this we have committed £427 million to the response. This has supported more than half of all the beds available for Ebola patients in Sierra Leone, funded over 100 burial teams, trained 4,000 frontline staff, provided three labs to test one third of all samples collected nationally and delivered over one million PPE suits and 150 vehicles.

The UK's top priority remains to help the government of Sierra Leone and the wider region reach and then maintain zero cases of Ebola as quickly as possible. We are proactively seeking out cases and dealing with remaining chains of transmission through enhanced active surveillance, comprehensive contact tracing, as well as strengthened social mobilisation, encouraging the people of Sierra Leone to go to a health centre if symptomatic and to bury the dead in a safe and dignified way.
Published 10 July 2015