Press release
Greening: Track UK development support impact
New online tool launched today will help UK taxpayers track overseas development investment right down to the individual project level.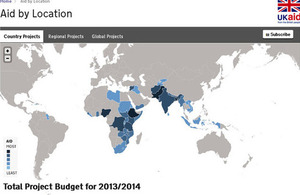 UK taxpayers will be able to track how hard their overseas development investment is working right down to individual project level using a new online tool, International Development Secretary Justine Greening announced today.
Everyone, from UK taxpayers through to civil society organisations and those who benefit from projects in the developing world, will be able to use the online Development Tracker tool to view data published to international standards on where aid is invested and on what. This includes a subscription feature allowing users to sign up for monthly email updates for countries of interest highlighting new and updated projects.
Justine Greening said:
The British public want to be able to see that the UK's development investment is reaching the people most in need and really making a difference. Using the new Development Tracker, they can now do exactly this.

This not only improves taxpayers' understanding of how our UK development support is invested but is also a great way of helping people in developing countries see just how much support they are getting from the UK.

I hope the Development Tracker will spur other international donors to think about how they can follow the UK's lead in publishing good quality, accessible data.
The Development Tracker site presents over 7,000 individual entries, grouped into around 3,500 projects, and presented in an interactive infographic. Users will be able to zoom in on countries to see the local districts where money is being spent, with a breakdown of each project. Crucially, it lets people track development spend through not just government budgets but also through agencies that receive central programme funding. The information on the site is updated monthly as the information is uploaded on to DFID's database of projects.
Notes to editors:
The Development Tracker can be found at https://www.gov.uk/devtracker

The UK is recognised as a global leader on development transparency, and last week came third of 67 donors in Publish What You Fund's annual Aid Transparency Index. More info can be found at: http://ati.publishwhatyoufund.org/index-2013/results/.

The data complies with the standards of the International Aid Transparency Initiative, (IATI), a voluntary, multi-stakeholder initiative on which the UK helped to launch in 2009. It seeks to improve aid transparency in order to increase its effectiveness in tackling poverty.

IATI brings together donor and developing countries, civil society organisations and other experts in aid information who share the aspirations of the original IATI Accra Statement and are committed to working together to increase the transparency of aid. See more at: http://www.aidtransparency.net/about

The Open Government Partnership, (OGP) was launched in 2011 to provide an international platform for domestic reformers committed to making their governments more open, accountable, and responsive to citizens. Find out more at: http://www.opengovpartnership.org/

The latest Statistics on International Development have been published today. They can be found at: https://www.gov.uk/government/publications/statistics-on-international-development-2013
General media queries
Follow the DFID Media office on Twitter - @DFID_Press
Published 31 October 2013