News story
Greening: new aid for Yemen
UK provides essential medical supplies, food assistance and thermal blankets as humanitarian crisis worsens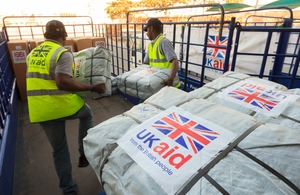 A new £10 million emergency support package will provide much needed help for Yemenis caught in one of the worst humanitarian crises in the world, International Development Secretary Justine Greening has announced.
More than 21 million people in Yemen – equivalent to more than 80% of the population – are now in need of humanitarian aid, with the conflict having disrupted the delivery of essential food, fuel and medical supplies to those most in need, putting millions of lives at risk.
The UK has more than doubled its life-saving humanitarian assistance to Yemen over the last year, with new funding bringing the total to £85 million for 2015/16.
The new aid, which will go to UN and NGO delivery partners on the ground, will include:
critical medical supplies and rehabilitation of health centres to improve the health of children – with 320,000 children suffering severe malnutrition

emergency food assistance and protection of livestock to help people facing critical food shortages, of whom there are now 7.6 million
thermal blankets to keep displaced families warm during winter – as 2.5 million people have been displaced by fighting
treatment for potentially fatal diseases such as diarrhoea, cholera and malaria
facilitation of essential commercial supplies entering Yemen by sea
International Development Secretary Justine Greening said:
As the humanitarian crisis in Yemen continues to worsen, we do not have a moment to lose in tackling the shortages of food, fuel and medical supplies that threaten millions of lives.

The UK is leading the way in responding to the crisis by committing an additional £10 million. So far our support has helped more than one million people, providing vital food, water, medical supplies, healthcare and emergency shelter.

Boosting our support will save even more lives but UK support alone cannot stem this crisis. I urge the international community to step up and do their bit to prevent a worsening disaster. We also urge all parties to engage in good faith in the peace talks, which are vital to achieving the sustainable political solution that Yemen desperately needs to resolve the crisis and improve the humanitarian situation.
General media queries
Follow the DFID Media office on Twitter - @DFID_Press
Published 25 January 2016