World news story
Greenhouse tomatoes in Southern Helmand
Greenhouse technology helps Afghan farmers in Southern Helmand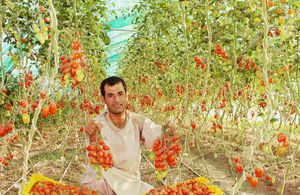 Islam Gul is a tomato farmer from Helmand province. He used to work on a farm using traditional equipment. However, recently, through the UK Aid funded Comprehensive Agriculture and Rural Development Facility (CARD-F) programme, he has been shown how greenhouse technology can dramatically increase production.
Islam Gul now grows all his tomatoes in greenhouses, and this season alone is expecting a crop of 2.5 metric tons, with a net value of 115,000AFS ($2,300).
The Comprehensive Agriculture and Rural Development Facility (CARD-F) programme, is introducing new agriculture practices and technologies and providing farmers with technical assistance to enhance their capacity and improve agriculture in Southern Helmand.
CARD-F provides tools, improved seeds, fertilizer, helps install greenhouses and teaches farmers best practice in harvest and post-harvest management and market linkage. Through its support, CARD-F aims to increase employment, income and business opportunities as well as increasing farmers' crop yields.
Islam Gul said:
I have been brought up in a farming family but I have never witnessed such a yield from such a small piece of land. My fellow farmers in Helmand province prefer to grow poppy to cope with the growing costs and to earn a good income, but I think now that I have this greenhouse it will give me an equal income, however it will be licit.
CARD-F hopes to expand its programme of support to nine new provinces to promote and strengthen local agriculture production and value chains and provide alternatives to imported produce. The UK is a key donor to CARD-F.
Published 28 July 2015