Press release
Green light for Leeds trolleybus
The UK's first modern electric trolleybus system will be funded in Leeds.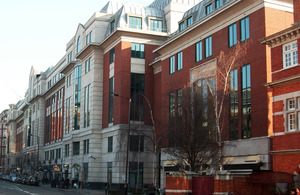 Trolleybuses are set to return to Leeds after Transport Secretary Justine Greening today (5 July 2012) approved a new £250 million state-of-the-art public transport system expected to generate 4,000 new jobs and boost the West Yorkshire economy.
The new generation transport scheme, delivering the UK's first modern electric trolleybus system, will receive the bulk of the funding (up to £173.5 million) from the Department for Transport with the remainder (£76.5 million) coming from local authorities. The project has today (5 July 2012) been granted "programme entry status" by the Department for Transport allowing Metro (West Yorkshire Passenger Transport Executive) to apply for the statutory consents necessary for the scheme. Subject to these being granted work will start in 2016 with the trolleybus fully operational in 2018.
Commenting on her decision, Justine Greening said:
Leeds will have new state-of-the-art trolleybuses that will be faster, more reliable and greener than their predecessors. They will make public transport in Leeds more accessible and attractive than ever before and I know trolleybuses will be transformational for growth and jobs in West Yorkshire.

Investment on this scale in precisely this kind of infrastructure is a recognition of how crucial Leeds and Yorkshire are to the long-term success of the British economy. It is also a great example of what this coalition government and West Yorkshire partners can achieve when we knuckle down together and stick at finding a real solution to today's challenges.
When the trolleybus system is completed it will run from Holt Park in the north to Stourton in the south, linking with 2 Park-and-Ride sites. The trolleybus will operate in exclusive designated road lanes along more than 40% of its 8.7 mile length.
Notes to editors
In addition to the trolleybus, the department is funding: 2 new railway stations at Kirkstall Forge and Apperley Bridge; the A65 quality bus corridor, which will be completed shortly; and a new southern pedestrian entrance to Leeds railway station.
The Leeds new generation trolleybus is the first modern trolleybus proposal in the UK although they are commonplace in Europe. A trolleybus has many features of a tram - overhead wires, similar vehicle quality - but does not run on rails and so is cheaper and faster to construct.
Roads media enquiries
Media enquiries 020 7944 3021
Out of hours media enquiries 020 7944 4292
Switchboard 0300 330 3000
Published 5 July 2012