Green home for MOD equipment team
Providing flexible space for 600 desks, the new Oak building is part of a major programme to transfer 4,000 posts from the more expensive south…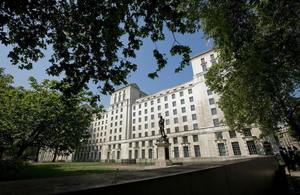 Providing flexible space for 600 desks, the new Oak building is part of a major programme to transfer 4,000 posts from the more expensive south and east of England to Abbey Wood near Bristol and make savings of over £500 million to the taxpayer.
Working in partnership with its regional industry partner Debut Services, DE recently handed over the building to Defence Equipment & Support (DE&S), ahead of schedule. The Oak Building is the first MOD project to achieve the equivalent of a BREEAM 'Outstanding' rating and delivers highly sustainable office space.
The building's range of innovations, includes active Brise Soleil with adjustable louvers. These visually arresting motorised outdoor blinds alleviate the need for costly and energy-consuming air conditioning even in the sunniest and hottest weather. It is the first time they have been used on this scale on a British commercial building.
Oak Building has an improved approach to capturing, storing and distributing rainwater - using only gravity to provide water to toilet areas. A ground source heat pump provides heating for the ground-floor main atrium and cafe.
The building also benefits from reinforced concrete core construction, which provides a high thermal mass to help control the temperature. It is also highly insulated to minimise use of electricity.
DE project manager Simon Mack said:
Supporting our Armed Forces is the top priority for Defence Estates. In Oak Building, we have delivered an innovative and unique high-quality building with outstanding environmental credentials, whilst providing value for the public purse.

The design process integrated every aspect of the building so each element works in harmony. Every supplier and subcontractor was part of this process, allowing good relationships and joined-up thinking to develop.
He added that the building had been procured through a Regional Prime Contract, proving the worth of partnering principles in SMART building procurement, championed by the MOD.
Products containing recycled materials were used wherever possible, without any reduction in build quality. For example, ceilings are made of nearly 100% recycled glass, whilst blockwork is 90% recycled and entrance mats are 100% recycled vehicle tyres.
DE&S project manager Matt Ivins, said:
The focus of the DE&S Collocation Project is to reduce our running costs and improve support to the front line. Oak Building is a key element of achieving this goal and I am pleased that by working together with Defence Estates has produced such a high quality building.
Paul Nix, Debut's Core Works Director, added:
This building will not only provide DE&S with modern office space but also assist the MOD with meeting the Government's sustainable development targets through the sustainable technology incorporated within the design and construction.
Published 22 July 2010