Green growth real and happening in Yorkshire
Press notice: 11/087_ykshire 26 October 2011 The Rt Hon Chris Huhne MP will today put the spotlight on the economic benefits to Britain of…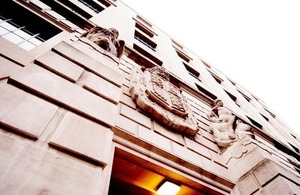 ---
Press notice: 11/087_ykshire
26 October 2011
The Rt Hon Chris Huhne MP will today put the spotlight on the economic benefits to Britain of investing in green energy in Yorkshire.
This financial year renewable energy developers have announced plans in Yorkshire for £349.5m investment, with the potential to create over 2290 jobs, as the region begins to realise its huge economic potential and produce clean, home-grown energy.
Speaking at an annual conference of the renewables industry, The Rt Hon Chris Huhne MP will today hail renewable energy sources like wind, wave and biomass as already delivering a "third industrial revolution" across the UK.
Huhne will cite progress in the last six months, where industry has announced plans to invest £1.7bn and create over 9,000 jobs "from the Western Isles to the Isle of Wight".
The Energy Secretary will say:
"Renewable energy technologies will deliver a third industrial revolution. Its impact will be every bit as profound as the first two.
"The revolution has already begun, from the Western Isles to the Isle of Wight. Across the length and breadth of Britain, new companies are creating new jobs and delivering the technologies that will power our future.
"At a time when closures and cuts dominate the news cycle, next-generation industries are providing jobs and sinking capital into Britain.
"I want to take aim at the curmudgeons and faultfinders who hold forth on the impossibility of renewables. The climate sceptics and armchair engineers who are selling Britain's ingenuity short.
"Yes, climate change is a manmade disaster. Yes, the UK is only 2% of global carbon emissions. But if we grasp the opportunity now our businesses and economy can be much more than 2% of the solution.
"We are not going to save our economy by turning our back on renewable energy.
"It is this three-party consensus that makes the UK such a good place to invest.
"So I can today assure you that this government has resolved that we will be the largest market in Europe for offshore wind."
Yorkshire has great potential to benefit from the growth in green energy with several major renewables projects announced in the last six months including:
Banks Renewables, based in Durham: £21m investment into two wind farms. Funding agreement with Co-op Bank
Drax: Two 299MW biomass plants. Up to 1500 jobs
ECO2: 40MW biomass plant in Sleaford. Up to 80 jobs and local straw contract £6m p/a
PDM, a Bentley-based company: 2.8MW AD plant. 41 jobs
A Shade Greener: £20m investment from GE Capital. 60 jobs
Mitsubishi Power Systems Europe: £2.5m investment in its Leeds centre. Up to 50 jobs
Real Ventures: planned 50MW biomass plant in Immingham. £130m investment, up to 285 jobs
C Spencer Ltd, Hull-based civil engineers: planned hybrid power station. £150 investment, up to 260 jobs
---
Notes for editors
The Government published its Renewable Energy Roadmap in July, setting out a clear commitment to renewable energy to 2020 and beyond.
Last week the Government launched a consultation on support levels for renewable electricity technologies under the Renewables Obligation from 2013-17.
Published 26 October 2011