Press release
Green-fingered students share recipe for success
A bright crop of pupils in Greenwich put on a gardening masterclass for Agriculture Minister Jim Paice today. The budding gardeners of Charlton…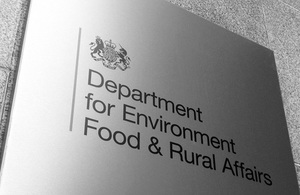 A bright crop of pupils in Greenwich put on a gardening masterclass for Agriculture Minister Jim Paice today.
The budding gardeners of Charlton Manor school showed off their grow-your-own skills and the Minister will now take back the lessons he's learned to the Food Growing in Schools Taskforce so that other schools can follow their lead.
The Task Force have come together to encourage many more schools around the country to grow fruit and vegetables. The group is led by Garden Organic and includes Blue Peter gardener Chris Collins, The Sun's gardening correspondent Peter Seabrook, the Royal Horticultural Society, the Women's Institute, and Morrison's supermarket.
Agriculture Minister Jim Paice said:
"I'm delighted to see the children of Charlton Manor Primary School taking their food growing so seriously. Their enthusiasm is infectious.
"Getting kids growing their own fruit and veg not only helps them understand where their food's coming from and what's healthy, it also teaches them skills in enterprise and sharing.
"That's why the Task Force we set up is now looking at how to break down the barriers so that many more schools can follow Charlton Manor's example."
The Taskforce's full report, due to be published in the New Year, will give recommendations on how every school in the country can grow their own.
Mr Paice also visited an allotment scheme at Surrey Docks Farm in Southwark to see local growers in action.
He added:
"It's really important that as many people as possible have access to allotments. We want to see an increase in the number of plots. It was great to see an allotment scheme that is such a key part of the local community and how growing your own can give such a sense of wellbeing to local growers."
Published 1 November 2011