World news story
Green Dealing with Energy Efficiency in Russia
The British Embassy, in partnership with IFC World Bank, held a seminar in Moscow to support the development of policies and financial mechanisms that stimulate energy efficiency in homes.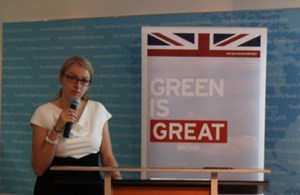 Russia has a target to reduce energy intensity by 40% by 2020, and improving the efficiency of Russian homes will play an important role in this.
Simple improvements, such as new windows or insulation can make a real difference to homeowners' energy bills. As utility costs continue to rise, both in Russia and the UK, this is becoming more important. But many see such installations as costly, or they don't know where to start. In the UK, a new mechanism called the Green Deal aims to make the process simpler and more affordable.
The event was opened by Minister Counsellor Economic and Trade, Barbara Habberjam, who stressed the importance of energy efficiency: it helps preserve valuable resources; reduces harmful greenhouse gas emissions that cause dangerous climate change; drives down costs for companies; and lowers monthly bill payments for homeowners.
Ros Wall, the Head of Green Deal Finance at the UK's Department for Energy and Climate Change, shared the UK's experience of developing the Green Deal. Firstly, and perhaps most importantly, the Green Deal overcomes financial barriers by ensuring no up-front costs to the homeowner: costs are repaid using the savings made on energy bills. Secondly, it gives consumers confidence in the quality of work being done, and in its affordability: all the businesses involved in the work are accredited, and the Green Deal "Golden Rule" means savings should always be greater than the costs. Thirdly, it makes things simple: the Green Deal creates a single point of contact for advice, finance, home energy efficiency improvements and repayments.
The event also showcased new and established policies and financing mechanisms in Russia, and raised discussion of the remaining barriers and solutions required to encourage widespread uptake of energy efficiency improvements in Russia's homes.
Participants included senior Russian policymakers, international financial organisations, banks and other financiers, homeowner's associations, and international and Russian experts.
Published 13 June 2013