News story
Green Deal Oversight Body and Ombudsman Announced
Gemserv wins contract for oversight of Green Deal Ombudsman Services Ltd to act as the Ombudsman and Investigation service for Green Deal…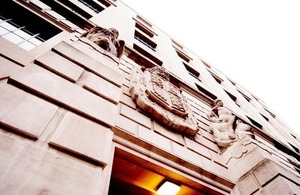 Gemserv wins contract for oversight of Green Deal
Ombudsman Services Ltd to act as the Ombudsman and Investigation service for Green Deal
DECC has today announced two appointments to help ensure robust management of the Green Deal programme.
Green Deal Oversight Body
Multi service provider Gemserv will run the new Green Deal oversight body and will be responsible for the registration of assessors, installers and providers and monitoring compliance with the Code of Practice under the Government's flagship energy efficiency programme.
Gemserv, with their partners REAL, has been chosen to provide these services on behalf of DECC for the next three years following an open competition. Both Gemserv and REAL currently operate the MCS scheme for DECC so are well acquainted with the challenges and requirements involved in operating a scheme of this nature.
The service will commence in early August ahead of the staged introduction of the Green Deal later in the year.
Following feedback from industry and consumers DECC has also today confirmed that there will be no fees for assessors, installers and providers who wish to get the official Green Deal stamp of approval during the first two years of the scheme. DECC will fund all costs associated with the registration and oversight service for the first two years, with the intention of moving to a fee-based approach from year three onwards, when the Green Deal has become established.
Energy and Climate Change Minister Greg Barker, speaking at Wolseley UK's Plumb Centre Green Deal open day in Leamington Spa, said:
"We need to make sure all the Green Deal assessors, installers and providers get our stamp of approval to ensure the highest level of consumer protection for householders and businesses under this scheme. I am delighted that Gemserv has risen to the challenge and is going to take on this very important role.
"No registration fees for the first two years will remove burdensome admin costs at a time when many can least afford them, helping encourage organisations to get onboard and offering more freedom of choice for consumers."
David Thorne CEO of Gemserv said:
"We are delighted to have been appointed as the Green Deal Oversight and Registration Body and are looking forward to playing a central role in implementing and developing this ground breaking programme.
"Gemserv will be able to draw on our strong experience of delivering the MCS scheme, maximising the synergies, and we hope to begin discussions shortly with key industry participants to ensure we are prepared for the Green Deal's launch. We are working closely with our delivery partner REAL utilising their extensive consumer protection experience."
Virginia Graham CEO of REAL said:
"We are committed to ensuring a high level of consumer protection in the energy efficiency sector as part of the UK's transitions to a low carbon economy.
"We look forward to putting the lessons we've learnt into practice in order so that the Green Deal Consumer Code successfully ensures a high quality experience for consumers looking to cut their carbon and fuel bills through energy efficiency measures".
Green Deal Ombudsman
In addition, DECC has announced the appointment of the Ombudsman Services Ltd as the provider of the Green Deal Ombudsman and Investigation Service. This will be a free service which is easy to use for customers who cannot reach an agreement with their Green Deal Provider over a complaint.
DECC has appointed Ombudsman Services Ltd, who currently run Ofgem's Energy Ombudsman Service, for the provision of redress and consumer protection in the Green Deal, following a procurement exercise. The Ombudsman will investigate complaints and determine redress for consumers. Depending on the type of complaint, following an investigation, the Ombudsman will refer cases to the Secretary of State for determining redress or imposing sanctions.
Chief Ombudsman Lewis Shand Smith said:
"The Green Deal is a new concept to householders. Consumers taking up the Green Deal can be confident that if something goes wrong they will have easy access to independent and effective redress.
"We already provide the ombudsman service for the energy (supply and network) industry and its customers, to it makes sense for complaints about Green Deal providers to come to us. We're looking forward to working with DECC on the details of the scheme."
This new service will be up and running by October 2012 and is an important part of the Government's approach to assuring consumer protection under the Green Deal.
---
Notes to editors
As specified in the Energy Act 2011 assessors and installers must be authorised in order to operate under the Green Deal. To be authorised, assessors and installers must meet the new Green Deal assessor and installer standards and be certified against those standards by acknowledged certification bodies. Certification bodies will then register those who they have certified enabling assessors and installers to start operating under the Green Deal. Green Deal providers (of finance) must also register directly with the oversight body.
The Green Deal oversight body will also monitor the Code of Practice for installers, which sets out the consumer protection and product standards for the Green Deal. It will also carry out random checks of work, mystery shopping and carry out post installation visits to ensure that measures are performing correctly.
Energy and Climate Change Minister Greg Barker today visited Wolseley UK's Plumb Centre Green Deal open day held at their Sustainable Building Centre in Leamington Spa and announced the Green Deal Oversight Body and Ombudsman and Investigation service during his speech at this event. The Sustainable Building Centre was the UK's first commercial sustainable product showcase and is also a renewables training facility. It offers a unique source of information on more than 7,000 products, where visitors can see those renewable products in action.
Gemserv currently operates the Microgeneration Certification Scheme (MCS) for DECC. More details on Gemserv can be found on the Gemserve website.
REAL currently operates the only Consumer Assurance Code for the microgeneration industry. More details on REAL can be found on the REAL website. 
Published 14 June 2012