World news story
#GREATHouseBrasil closes its door in Sao Paulo
One of the events to attract more public was the exhibition "Beatles – 50 years of history"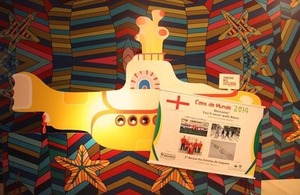 This week marks the end of the GREAT Britain House, which opened in the Brazilian British Centre in June 9th. The house has featured about 20 events, with themes varying between energy, infrastructure, sports marketing, movies, fashion, music and gastronomy. One of the event to attract more public – which justified its extended duration– was the exhibition "Beatles – 50 years of history", which lasted the entire month and displayed over 50 collector items, among musical instruments, autographs, golden records and photographs.
The Yellow Submarine panel currently on display at the exhibition (and probably its most photographed item) will be donated after the disassembling of the event to Águas de Março (Waters of March) public school of primary education. The school sent the Consulate a banner with pictures of its students imitating typical British scenes.
The panel is a thank you gift – so now the Yellow Submarine will swim the "Waters of March".
Published 17 July 2014