News story
Greater say for patients as Monitor authorises new foundation trusts
Over 2 million people across England can have a greater say over how their health services are run after Monitor awarded foundation trust status to 3 NHS trusts.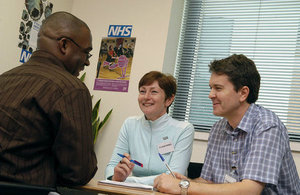 Bridgewater Community Healthcare NHS Trust in the north west of England, Derbyshire Community Health Services NHS Trust and Royal United Hospital Bath NHS Trust have been authorised by Monitor as foundation trusts, effective from 1 November 2014.
These decisions mean there are now 149 NHS foundation trusts in total, over 60% of all trusts in England's NHS. Bridgewater and Derbyshire are also the first community health trusts (which provide care closer to people's homes) to achieve foundation trust status.
After undergoing a rigorous assessment process, the trusts will now be able to give patients, staff and the public the chance to become members or governors with a formal say over how their trusts are run. The trusts will also have more freedom to shape services that match the needs of local people.
Miranda Carter, Executive Director of Provider Appraisal at Monitor, said:
We are pleased to announce the creation of these new foundation trusts. Millions of patients could now have a greater say over their healthcare and the new foundation trusts will have greater freedom to provide services that meet the needs of local people.

The authorisation of trusts which provide healthcare in the community is proof that foundation trust status is attainable by all types of health care organisation.
To achieve foundation trust status, they had to prove they are well-led. The independent Care Quality Commission also used its new inspection approach to judge that the quality of care provided by the trusts met the standard expected.
As foundation trusts they will be:
free from central government control and able to decide how to improve their services
able to retain any surpluses they generate to invest in new services, and borrow money to support these investments
accountable to their local communities, with local people as members and governors
Published 30 October 2014