Greater local powers to boost community-led regeneration
Local Government Minister Grant Shapps and Communities Minister Andrew Stunell have today outlined how the Coalition Government is untying the…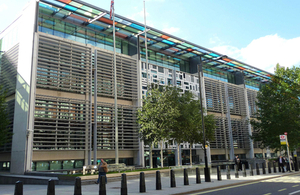 Local Government Minister Grant Shapps and Communities Minister Andrew Stunell have today outlined how the Coalition Government is untying the hands of communities to find innovative ways to regenerate their area.
Ministers have signalled the end to top-down regeneration, which they argue pitted neighbour against neighbour and forced developments on communities that did not want them.
Instead, the Government is looking to devolve a wide range of powers from Whitehall to Town Halls - putting residents, local businesses, local authorities and civil society organisations in the driving seat and providing them with rewards and incentives to drive local regeneration and growth.
These include:
increasing local control of council budgets by removing the ringfence from billions of pounds of funding from central Government
the new Regional Growth Fund to support private sector enterprise, economic growth, and the creation of sustainable jobs
a simplified and streamlined National Planning Policy Framework, giving new powers and rights for local councils and communities to determine and influence what happens in their area.
In addition to this, councils will be able to raise additional funds to invest in their local area through the New Homes Bonus, where central Government will match the council tax raised from new homes built and empty homes brought back into use for the first six years.
Local people will work with councils to decide what to spend the extra money on - whether council tax discounts for local residents, boosting frontline services like rubbish collection or providing local facilities like swimming pools and leisure centres. This will mean that for the first time, communities will be able to see the benefits of development in their area for themselves.
Visiting the Baytree Renewal Area in Manchester, Local Government Minister Grant Shapps said:
I want to see an end to the centrally-imposed regeneration regime which pitted neighbour against neighbour and forced developments on communities that did not want them.

That's why we're shifting the balance in favour of communities themselves, untying the hands of councils and residents so they can make the key decisions over how they would like to improve their own neighbourhoods.

Baytree is a great example of this. Local residents working with the Council to ensure that their views were factored into renewal work, and that the wishes of residents - more green spaces, improved security, and action on speeding vehicles and crime - were taken account of.

And with the New Homes Bonus offering powerful incentives for growth, councils will have the opportunity to invest these additional funds in their local area, while residents themselves will for the first time see the benefits of development for themselves.
Communities Minister Andrew Stunell said:
Communities must no longer face instructions from central Government on regenerating their local areas, but must be free to take the lead and decide for themselves. That's why we're devolving a wide range of powers to councils and their residents alike.

The New Homes Bonus is a key component of this. For the first time, residents will have an incentive to give the green light to new developments in their area, and the extra Government funding they attract will be available for them to use as they see fit.

And neighbourhoods blighted by empty homes and the anti-social behaviour they attract can also benefit from extra Government cash by bringing these properties back into use for families in need.
Today, Mr Shapps and Mr Stunell have also confirmed a further £5 million funding to encourage the newly-formed Local Enterprise Partnerships and new Local Authority partnerships to work together across boundaries to deliver large scale housing and regeneration schemes in key growth and Housing Market Renewal locations.
These extra freedoms and flexibilities sit alongside nearly £20 billion investment in growth and regeneration from central Government, through new infrastructure projects. This includes:
£7.5 billion towards Crossrail, providing significantly improved transport links from West to East London
£4.5 billion for new affordable homes, and over £2 billion investment in the Decent Homes programme which will halve the backlog of work, including refurbishing around 150,000 homes in the council sector
the £1.4 billion Regional Growth Fund to support private sector economic growth and the creation of sustainable jobs, particularly in areas dependent on public sector employment, which sits alongside another £1.4 billion from the European Regional Development Fund
£750 million towards High Speed Rail 2 over the next four years; and
£500 million investment to transform the Olympic Park after the 2012 Games to create a new community in East London.
Jackie Sadek, Chief Executive of UK Regeneration, said:
We are delighted that the Government has set out a clear and very simple framework for regeneration. In keeping with its drive on localism the Government is focusing on enabling measures and a few key strategic interventions on transport. This offers all of us a challenge: taking this framework, with limited resources, and making things happen across the country. UK Regeneration is leading that drive.
Related publications
Published: 31 January 2011
Site: Regeneration and economic growth
Twitter
Keep up to date with the Department by following us on Twitter (external link).
Media enquiries
Visit our newsroom contacts page for media enquiry contact details.
Published 31 January 2011