News story
Greater freedom for local councils to prevent unauthorised traveller sites
Proposals to give councils more freedom to stop unauthorised traveller sites have been published for consultation.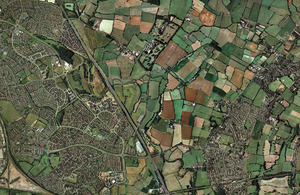 Councils would be given greater freedom to stop unauthorised traveller sites being set up and prevent long, drawn-out stalemates like Dale Farm, under proposals published for consultation today.
Temporary Stop Notices
The proposals would allow councils greater freedom to use temporary stop notices in relation to caravans that are in breach of planning control, and are used as a person's main residence. This would be backed up with the potential for heavy fines of up to £20,000 on indictment or an unlimited fine on summary conviction.
Under the current system councils are constrained as to when they can use these powers against caravans that are main residences, which can result in long delays and high costs to stop unauthorised development of this kind.
Communities Minister Brandon Lewis said:
"For too long a small minority have abused the planning system, often at the expense of local communities who are forced to put up with unauthorised development in their area. This government believes in fair play, with everyone abiding by the same rules. These proposals will assist local councils in taking effective action against those who don't."
Stronger powers
Temporary Stop Notices enable councils to take action with immediate effect against unauthorised development without having to wait three days for a Stop Notice, or 28 days for an enforcement notice to come into effect.
Subject to the outcome of the consultation, today's proposals would remove restrictions on the use of temporary stop notices so councils can act quickly against new unauthorised sites, and save on the costs of enforcement.
Published 21 December 2012