Press release
Greater discounts for 4,000 local residents at Dartford-Thurrock Crossing
Local residents registered for discount scheme to include unlimited trips over the Dartford-Thurrock Crossing for £20 a year.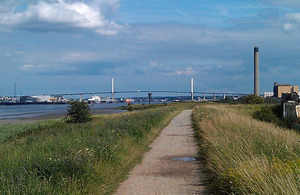 Improvements to a discount scheme to help local people who regularly use the Dartford-Thurrock Crossing has been announced by the Transport Secretary today (12 September 2013).
Local residents, particularly those with privately owned vans, will benefit from the new way to pay.
From March 2014, people registered in the local resident discount scheme will be able to make unlimited trips over the crossing for just £20 a year. This option will also be open to local residents who privately own a two-axle vehicle, including vans.
Around 4,000 local people are expected to benefit from the move, although it will only be possible to register 1 vehicle, a car or a van, per resident at each address.
Transport Secretary Patrick McLoughlin said:
Local businessmen and women use the Dartford crossing regularly to make deliveries into Essex and Kent. They are the backbone of British industry and that is why I am keen to find new ways we can make their lives cheaper and easier.

At a cost of just over 5p a day we will help thousands of small businesses keep their costs down as well as saving money for those who currently belong to the residents' discount scheme.
In a move to cut bureaucracy, the Transport Secretary also announced that motorists registered on the local resident discount scheme will only have to send in their vehicle documentation every 2 years, rather than annually.
The existing scheme - which allows motorists to pay £10 for 50 trips a year and 20p for each crossing thereafter - will continue, and existing users of the scheme will be eligible for the new way to pay.
There are currently more than 24,000 people signed up to the local resident discount scheme. Some 4,000 local residents make more than 100 trips each in a year and 700 of them make more than 400 trips a year; these residents are set to save money with the £20 flat rate.
In addition to the changes to the residents scheme and as part of a package of measures to ease congestion and improve traffic flow at the Dartford-Thurrock River Crossing, a new free-flow charging arrangement is due to be introduced during October 2014. This will see barriers removed and people able to pay before they cross, either online, by phone or at certain service areas.
The legislation which underpins this change came into force on 5 September 2013.
Roads media enquiries
Media enquiries 020 7944 3021
Out of hours media enquiries 020 7944 4292
Switchboard 0300 330 3000
Published 12 September 2013