Press release
Greater confidence for people living and working in the private rented sector
Conditions that need to be met by a company or organisation setting up a redress scheme made available.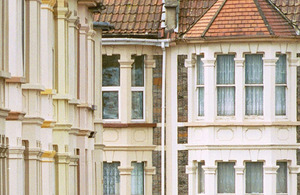 New measures that give tenants, landlords and leaseholders additional confidence in working with letting and managing agents and that strengthen the private rented sector were set out today (19 November 2013).
Compulsory redress schemes for these agents will ensure agents can be investigated where they have not been clear about fees or other issues, and will provide a cheaper, easier way to pursue compensation if there is a complaint.
Good progress is being made in introducing the requirement for all letting and property management agents to be a member of an approved redress scheme, and today the conditions that will need to be met by a company or organisation setting up a redress scheme have been made available.
Housing Minister Kris Hopkins said:
Private rented homes play an important role in providing flexible accommodation to many hard working people who either do not want to buy or who are saving up for a deposit.

Having a redress scheme will provide confidence to both tenants and landlords that any problems with letting agents can be cheaply and swiftly resolved and provides an alternative to the court system.

The conditions we are publishing set out our view of what needs to be considered in setting up a redress scheme that can give peace of mind to many people living and operating in the private rented sector and in leasehold accommodation.
Residential leaseholders and freeholders also now have somewhere they can go to resolve the day-to-day management problems that can arise with managing agents, without having to resort to a tribunal or court.
We aim for schemes to come forward for approval throughout January 2014 and urge agents to join one before it becomes a compulsory requirement.
The suggested conditions follow the recent publication of a tenants' charter for the private rented sector, which ensures all tenants know what to expect from their tenancy and, if something goes wrong, where to go for help.
This includes greater transparency about lettings agents' fees, helping to stop unreasonable practices and unfair charges, and ensuring would-be tenants know the full costs before they sign up to any contract.
The government is continuing to back the rental sector with the new £1 billion Build to Rent Fund, which has already identified 45 potential schemes, and £10 billion of government-backed guarantees to encourage institutional investment in the sector.
This new approach will revolutionise the way new homes are built for the rental market, and provide more choice and better quality for tenants. It will boost the supply of rental homes, will support longer-term tenancies, and increase competition between landlords offering decent, reasonably priced accommodation.
Further information
The redress schemes will need to be approved by the Secretary of State.
An order has been laid before Parliament that sets out the conditions that the schemes must meet to be approved. Subject to Parliamentary approval of that order, the government will publish details of how to come forward for approval in December 2013, with a window for approvals to be made in the month of January 2014.
Today the government has published the provisional guidance on how it will judge whether redress schemes meet the conditions in the order.
The order (The Redress Schemes for Lettings Agency Work and Property Management Work (Approval and Designation of Schemes) (England) Order 2013) will be debated by both Houses of Parliament and, subject to Parliamentary approval, it is expected to come into force in December 2013.
The parliamentary process required for establishing how the schemes will be approved is also well underway. We expect to be able to publish the full details of how to apply in mid December, with schemes coming forward for approval throughout January.
Published 19 November 2013