World news story
GREAT Film Reception
Celebrating the Best of UK-Sino Partnerships in Film.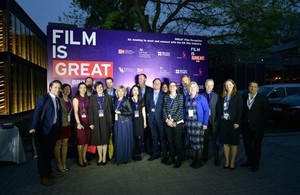 On the eve of the opening of the fourth Beijing International Film Festival, British Ambassador to China, Sebastian Wood, hosted a special evening reception to celebrate UK film and new partnerships between the UK and China. This event took place in the run-up to the highly anticipated Film Co-production Treaty signing.
The 'GREAT Film Reception' brought together over 120 guests at Scottish whisky venue, Johnny Walker House, situated on the site of the old Legation Quarter of Beijing, Ch'ien Men 23. Guests included influential UK and China film industry representatives, and a special visiting film delegation of 15 UK-based production, talent and funding organisations.
The delegation organised and led by the British Film Institute (BFI), working together with UK Trade and Investment (UKTI) and the China-Britain Business Council (CBBC), will be taking part in many events at the Beijing International Film Festival. This takes place amid a number of new potential co-production partnerships in film, and amid growing interest in UK-China film collaboration.
Carma Elliot, British Council Director China and Minister for Culture and Education at the British Embassy commented:
It's been a great start to the year for the UK film industry, receiving 26 nominations in 18 categories across 16 films at the Oscars, and with UK/US film Gravity winning more Oscars than any other. This strong record highlights the UK's internationally recognised strengths in post-production and special effects. '12 Years a Slave, the winner of the 'Best Picture' Oscar for British Director Steve McQueen perfectly illustrates the UK's strengths in creativity and the cultural sector.

We are delighted to also celebrate China's recent wins at the Berlin Film Festival. These include Best Film for 'Black Coal, Thin Ice' and Best Actor for Liao Fan in the same film, making it the only film to win two awards this year.

We are looking forward to seeing many new and fruitful partnerships developing, making outstanding and creative films. Who knows, in future years, we may find ourselves at a similar event, celebrating an award-winning co-production, in the same way we are celebrating Gravity and 12 Years a Slave tonight" .
Deputy Director General of the State Administration for Radio, Film and Television, Mr Luan Guozhi, and Deputy Director General of the Beijing International Film Festival, Ding Baizhi, both present at the event commented on their enthusiasm for realising new Sino-UK film partnerships, and their excitement on including a strong UK film element to the Beijing International Film Festival this year.
Amanda Nevill, BFI CEO says: > Exploring and developing creative, cultural and commercial partnerships between the UK and China is a top priority for the BFI and for UK film, and we're thrilled to be leading the UK's first major film industry delegation to Beijing as part of our Electric Shadows year-long focus on China. It's wonderful to be reunited with the great Feng Xiaogang following our hugely popular focus on his work at BFI Southbank and our thanks go to British Ambassador to China, Sebastian Wood for hosting this fantastic event on the eve of the Beijing International Film Festival.
This event signals the start of a series of other events organised as part of the wider 'Film is GREAT' campaign. GREAT is the British Government's biggest ever international marketing campaign. It showcases the very best of what Britain has to offer to encourage the world to visit, study and do business with the UK. Over this year, events will run to coincide with the Shanghai Film Festival and Technology Innovators Forum in Qingdao. In 2015, the GREAT Festival of Creativity marks the flagship experience for the Film is GREAT campaign. This will be a spectacular festival in Shanghai centered on the best of British creativity through workshops, press events, live shows, master-classes and showcases.
Published 15 April 2014