World news story
GREAT Education: The experience of Jorge Luis Hidalgo
As part of our Education is GREAT campaign, we are sharing testimonies of students who studied in the UK. This week, Jorge Luis, tells us about his experience in the UK.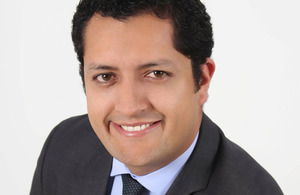 My name is Jorge Luis Hidalgo. After finishing my MBA in Barcelona, I was accepted onto a exchange programme at the University of Edinburgh. Besides living in a wonderful city – it was in fact my favourite city that I visited in Europe – I also had the opportunity to study in a competitive and prestigious environment.
During the programme I studied MBA subjects and also subjects from the world's first Masters in Carbon Management. I have fond memories of the high quality of my professors, who enriched my experience. In my classes, I had the opportunity to meet Kevin Houston, who is the Co-Founder of the company Carbon Masters. I now represent the company (which began at the University of Edinburgh) in Ecuador.
Thanks to the knowledge I have acquired, I now contribute to finding solutions for Ecuador to consume more efficient energy and be more environmentally friendly.
Get the latest news in our Twitter or Facebook accounts.
Published 6 November 2013