British Embassy invites all to celebrate A GREAT Day Out in Burma!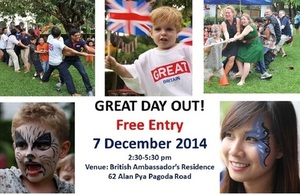 Following the overwhelming success of last year's GREAT Britain Week, the British Embassy Rangoon is thrilled to be hosting "A Great Day Out" in December.
"A Great Day Out" on Sunday 7 December 2014 is open to all. It will celebrate some of the very best of what Britain has to offer as part of the global GREAT Britain campaign.
Guests will be invited to savour traditional foods such as cucumber sandwiches and cream and strawberry jam-laden scones. Fairground-themed activities and sporting events will be provided to satisfy even the feistiest competitive streak.
The winners of the Foreign and Commonwealth Office (FCO) Burma Facebook http:// www.facebook.com/fcoburma page drawing competition will attend as guests of honour and receive certificates as a memento of the day.
HE Andrew Patrick, British Ambassador to Burma, said:
Last year's GREAT Britain week was enormously successful and I look forward to welcoming guests – especially those less familiar with the UK – to come and enjoy themselves during this GREAT Day Out.
It will be a lot of fun and a chance for families and friends to come together.
Events
Events taking place during the day include:
• Christmas carols sung by the choir from the British International School Yangon providing the perfect atmosphere • live music performed throughout the day by Burmese performers • Christmas decorations and handicrafts at a pop-up market of fair trade stalls • Peter Pan treasure hunt with Burmese and international actors and students from local monasteries
The British Embassy looks forward to seeing everyone there!
Sponsorship
The event is being sponsored by 4 British companies with a presence in Burma:
• BG Group • Land Rover • Standard Chartered Bank • Prudential
Notes to editors:
A GREAT Day Out will take place from 2.30pm to 5.30pm on Sunday 7 December at the British Ambassador's Residence in Rangoon.
For further information, please visit FCO in Burma on Facebook: www.facebook.com/fcoburma
For inquiries, please contact Public Diplomacy Officer Nwe Nwe Aye - Nwe.Aye@fco.gov.uk
Published 2 December 2014