GREAT campaign launches in New York
At the launch of a GREAT-branded subway train at New York's Grand Central Station, Ambassador to the United States Sir Peter Westmacott announced Victoria Beckham will be an international ambassador for Britain's GREAT campaign.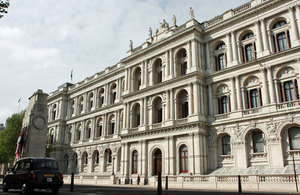 Victoria Beckham was joined by American Vogue editor-in-chief Anna Wintour, British supermodel Jourdan Dunn and other fashion luminaries at the event to highlight the importance of the British fashion industry. Photographer Patrick Demarchelier photographed the occasion and snapped the event's official photograph.
Speaking ahead of the launch, Prime Minister David Cameron said: "British fashion is a hugely important global industry and our designers have the talent, creativity and skills to rival anywhere in the world. Contributing over £20billion to the British economy each year, our industry inspires. Fashion is a truly great British success story."
As part of her role, Mrs Beckham will shoot a short film in support of GREAT and the campaign will feature one of her designs, which are handmade in the UK.
The UK will be in the world spotlight this year, and the GREAT campaign is part of the UK Government's drive to make the most of this opportunity as the Queen celebrates her Diamond Jubilee and the country hosts the 2012 Olympics and Paralympics.
Last week, Department for Culture Media and Sport Minister Jeremy Hunt announced details of the global GREAT campaign that will target 14 cities including New York.
Published 13 March 2012