GREAT campaign heads Down Under
Melbourne becomes the latest destination for the campaign ahead of this weekend's Australian Grand Prix.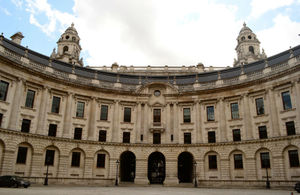 The GREAT campaign touched down in Australia today as Sports Minister Hugh Robertson joined British racing legends Sir Jackie Stewart and Damon Hill at an event in Melbourne to promote Britain as a great place to visit, study and do business.
Ahead of Sunday's opener to the 2012 Formula One season in Albert Park, the latest GREAT campaign launch highlighted the strong cultural connections between the UK and Australia and the strength of the British contribution to F1 motorsport.
The GREAT campaign, designed to promote the UK abroad, aims to deliver long-term economic benefits from the interest generated by London 2012. Events have already taken place around the world in locations such as New York, where Victoria Beckham and other fashion luminaries were among the first to see a Union Jack-branded subway train, and at Sugar Loaf Mountain in Rio de Janeiro, where Prince Harry launched the campaign.
Mr Robertson said: "After the tremendous success of Sydney 2000, Australia understands what the Olympics can do for a country. The GREAT campaign will highlight to Australia, and the world, why the UK is such a fantastic place to visit, invest and do business. As the country in which two-thirds of the world's Formula One cars are built, I am delighted that Damon Hill and Nick Fry will be helping to launch the campaign.
The event, staged at the Crown Hotel in Melbourne, was attended by a host of people from the motorsports world includingMercedes Benz F1 CEO Nick Fry and Williams CEO Alex Burns, as well as representatives from world-renowned British automotive brands such as Bentley and Aston Martin. They were joined by Australian sports stars Michael Doohan, Lydia Lassila and Jacqui Cooper and representatives from iconic British fashion brands Burberry and Ted Baker.
Further information
Published 16 March 2012