World news story
GREAT British Online Film Festival: a celebration of British film in China
The festival brings an unmissable array of over 50 top British features and short films to netizens across China.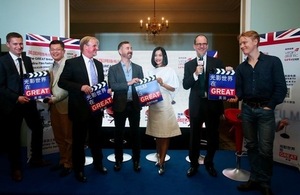 Film fans across Mainland China have cause to celebrate as the British Embassy Beijing, VisitBritain and Virgin Atlantic Airways have teamed up to launch the inaugural GREAT British Online Film Festival. The festival brings an unmissable array of over 50 top British features and short films to netizens across the country, via the video portal, LeTV. Viewers can tune in from now until 12 December by going to filmisgreat.cn, where they can find full details of the festival, and more information about each film.
The festival is a showcase of the best of British film, including a range of films that have been previously unavailable for release in China. The line-up includes 36 features curated by the British Film Institute (BFI) and 20 short films programmed by ShortsTV. Many of the films have either won, or been nominated for prestigious international awards. The selection of films features some of Britain's most famous actors such as Benedict Cumberbatch, Dame Judi Dench and Martin Freeman, and are directed by some of Britain's leading filmmakers.
A highlight of the festival will be the premier of the short film, Freeze Frame, produced especially for the 'GREAT Britain on Screen' campaign. Freeze Frame will be released online at the end of November. The film stars award-winning Chinese actress, Tian Yuan, with British actor Freddie Fox. It has been written, produced and directed by an award-winning British crew at ShortsTV alongside director Anthony Fabian. This romantic comedy is set against the backdrop of picturesque London, Edinburgh and Shanghai, taking viewers on a journey through film.
The festival was officially launched on the evening of Wednesday 8 October at the Residence of British Ambassador Sir Sebastian Wood. At the event, Sir Sebastian awarded Tian Yuan the title of 'GREAT Britain on Screen' Image Ambassador.
On receiving her award, Tian Yuan said:
I am delighted to take on the role of 'GREAT Britain on Screen' Image Ambassador. I love film, and am both an actor and director. My experience shooting Freeze Frame in the UK was unforgettable, and I greatly valued this chance to admire the beautiful scenery and work alongside top British film talent. As Image Ambassador, I hope that in the future I can continue to promote and encourage cooperation in film between China and the UK.
The launch was followed by a week of screenings, panel discussions and networking events in cities across China. Events in Beijing, Guangzhou, Chongqing and Shenyang promoted collaboration between China and the UK in the film industry and film education. British speakers included ShortsTV's Chief Executive, Carter Pilcher, Oscar and BAFTA-nominated film producer, Baldwin Li and Head of Distribution from the National Film and Television School, Hemant Sharda. The panellists discussed film-related issues with Chinese counterparts on stage to audiences of film professionals, students and film fans. Topics included short film production, funding, festivals, and film education, as well as a presentation from the BFI about what the Sino-UK Co-Production Treaty means in practice to the industry.
Sir Sebastian Wood said:
I am delighted that 2014 marks a year for celebrating the coming together of Great Britain and China in film. There are countless examples of creative talent across the UK, including in our world-class film industry. I hope that through the GREAT British Online Film Festival, audiences across China will rediscover British classics and uncover new favourites. In many cases, the location also has a starring role, and I hope viewers will be inspired to visit the UK to explore the locations from their favourite films.
In April this year, the Sino-UK Film Co-Production Treaty was signed in Beijing, sparking the creation of a series of cross-cultural projects to mark the new partnerships between the two nations in producing creative, quality film. Seizing on this enthusiasm, the 'GREAT Britain on Screen' campaign is running throughout the year, promoting the best of UK film and TV to fans and industry professionals across the country.
The campaign is an opportunity to demonstrate the UK's position as a world-leader in film. At this year's Oscars, British-made film Gravity collected seven awards, while 12 Years a Slave won three awards, including Best Director for Britain's Steve McQueen. British actors, directors, writers and crew work on films produced across the globe, and TV hits such as Downton Abbey and Sherlock have amassed huge fan-bases in China.
Film – and, increasingly, television – is a growing driver of tourism in Britain. When Daniel Craig and Judi Dench, as James Bond and M, stood surveying the lush landscape of Glencoe, millions of cinemagoers admired it too – and the mountain has since seen an increase of more than 40% in visitors. When Harry Potter dipped and dived on his broomstick at his first Quidditch lesson, Alnwick Castle played the role of Hogwarts – and saw an increase in visitors of 230%, boosting the local economy by an extra £9million; the Castle now even hosts Quidditch lessons for visitors.VisitBritain research indicates that 40% of potential visitors would be "very likely" to visit places they've seen in films or on TV, which now accounts for nearly 10% of all tourism.
The British Film Institute (BFI) is the UK's lead film organisation and celebrates, supports and promotes film in all its forms both in the UK and abroad.
Amanda Nevill, Chief Executive of the BFI, said:
The portrayal of British culture and heritage on screen is a great source of fascination amongst Chinese audiences so we know there is an incredible appetite for some of our best loved films. The BFI is thrilled to be partnering with the GREAT British Online Film Festival so that people in China can explore and experience the depth and richness that British filmmakers can offer, from contemporary period dramas such as The King's Speech and The French Lieutenant's Woman, to films showing our dark side such as Shaun of the Dead and The Sweeney, or some of our greatest archive classics including Brief Encounter and Oliver Twist. The UK has a history of producing some of the greatest films ever made by world-class talent and we can't wait to showcase some of our best examples to audiences in China, many for the first time there. In fact, our aim is that they are left hungry for more.
ShortsTV is a leading short movie entertainment company with the world's largest catalogue dedicated to short movies.
Carter Pilcher, ShortsTV's Chief Executive, said:
Britain and China are two of the world's oldest and most transcendent story-telling cultures, and both are exploding with new creativity. Nowhere is there more excitement or interest in both Britain and China than in the world of movies — and for young, hip Chinese and Brits, the coolest movies to watch are short movies.We are excited to bring Chinese audiences a glimpse into the world of British short filmmaking — the stars, the stories and the thrills of the highest quality shorts. Chinese audiences already love short videos. We hope these films, some of the world's best short movies, will serve as examples that jumpstart Chinese and British filmmaking cooperation.
Media Contact
Please follow us on sina weibo @英国驻华使馆
For enquiries in English:
Rachel Moilliet, Campaigns and Internal Communications Manager
British Embassy Beijing
T: +86 (10) 5192 4245
For enquiries in Chinese:
Erika Qu, Campaigns and Internal Communications Officer
British Embassy Beijing
T: +86 (10) 5192 4366
Published 24 September 2014
Last updated 3 November 2014
+ show all updates
Updated
Added translation