News story
Great British Food and Farming Plan events held across the country
Work continues on a new industry-wide 25-year plan to grow more, buy more and sell more British food.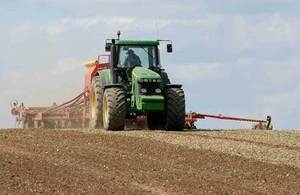 Sixty farmers and food businesses across the south-west will meet today to discuss the future of food and farming as work continues to develop a new industry-wide 25-year plan setting out how we can grow more, buy more and sell more British food.
Today's meeting in Bristol kick starts a series of three events across England bringing representatives from food and farming together to have their say on their industry's future. This follows meetings earlier this summer where attendees including family businesses, supermarkets, multinational companies, farming bodies, trade associations and academics discussed how to unleash the country's ambition for food and farming with a long-term plan for success.
Speaking ahead of the event, Environment Secretary Elizabeth Truss said:
Food and farming are cornerstones of our communities, providing one in eight jobs and generating billions for our growing economy. We are working with industry to develop a long-term plan to ensure a bright future for food and farming that supports a One Nation economy.

We are hugely ambitious for the industry's future—we want to champion technology, build skills and bring a new generation into food and farming by trebling apprenticeships. British food already enjoys a world-beating reputation for quality, traceability and fantastic taste, but there is more we can do to boost our global brand. We're asking those at the heart of UK food and farming to lead the way to ensure the industry can thrive.
Eighty industry representatives met in July at Defra's headquarters to discuss ways to ensure a bright future for food and farming, including developing a British brand, boosting food and drink exports, encouraging entrepreneurship, attracting investment and ensuring the industry has the right skills. In August, Defra hosted the Farming Stakeholder Forum which saw forty farming representatives meet to discuss the future of UK farming.
Now, views are being sought across England, with events in Manchester, Peterborough and Bristol to ensure input from the local farmers and food businesses who will own the plan.
The UK food chain is worth over £100bn to the UK economy, and food and drink remains the country's biggest manufacturing sector—bigger than cars and aerospace combined.
The stakeholder events will be held in Bristol on 15 September, Manchester on 24 September and Peterborough on 29 September.
If you would like more information on the 25-Year Food and Farming Plan please email foodpolicyunit@defra.gsi.gov.uk.
Published 15 September 2015