World news story
GREAT British Exhibition at Formula One concludes week of GREAT events
The exhibition concluded a week of events as part of GREAT campaign to promote education, tourism, trade and investment overseas.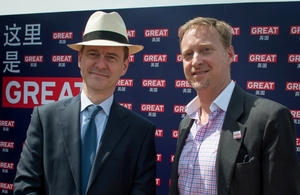 On 13 April, British Ambassador, Sebastian Wood, officially opened a GREAT British exhibition (from Friday 12 April to Sunday 14 April) at Jiading Race Track as the Chinese Grand Prix celebrated its tenth anniversary. The exhibition, expected to attract 100,000 guests over the three day period, demonstrated Britain's strengths in the luxury sector. Retail goods and the latest cars designed by McLaren, Mono, Morgan and Bentley were on display. Visitors to the exhibition also had the chance to see the best of British creativity in action as UK street dance group Flawless took to the stage.
Government department UK Trade and Investment started their programme of GREAT weekend events with a seminar entitled "Great Motorsports, Great Technologies". The seminar featured leading UK experts from McLaren, Ricardo, Mira, and Oxford Brookes/Warwick University who gave presentations about the UK's first class performance in engineering and innovative technologies which have transformed the global automotive industry.
The weekend activities concluded a week-long series of events as part of Britain's GREAT campaign to promote education, tourism, trade and investment overseas. During this time, the British Consul General in Shanghai, Brian Davidson, travelled to Hangzhou, Hefei and Nanjing – the key provincial capitals of the fast growing East China region, which has an economy the size of Russia. Mr Davidson hosted a reception at each stop to inform more than five hundred business leaders and officials about Britain's visa policies and education, tourism and business opportunities. In each city a number of meetings also took place where potential investors and senior local officials were able to discuss future UK-China collaboration.
Mr Davidson said:
These dynamic cities are key to China's continuing economic growth. We are here to ensure UK companies will be part of that success story.
Throughout the day Mr Davidson also took the opportunity to interact with wider audiences as Flawless performed in public spaces, attracting hundreds of onlookers along with local and national media.
The group travelled around regional China in GREAT branded London taxis thanks to a partnership with Geely, a Chinese carmaker who loaned the taxis to the campaign. The taxis represent an excellent example of Sino -British collaboration in technology, innovation and design. Geely recently bought out Coventry-based Manganese Bronze from administration and will shortly be restarting production at the Coventry plant. The taxis also attracted media attention transporting Flawless into the GREAT exhibition at the Jiading racetrack, Shanghai, as the week came to a close.
Whilst Flawless, finalists in 2009 Britain's Got Talent, entertained crowds, UK-China business delegations from the automotive, retail and creative sectors, and investors, attended a series of seminars and events. Each of the delegations visited the exhibition space and interacted with staff from the exhibiting companies to learn more about British technology, innovation and creativity. The cars on display included: a McLaren Spider, a Mono, a Morgan Plus 4 and a Bentley Mulsanne. Another area of the exhibition included a display of luxury goods from Clive Christian, Byford Men's Clothing, Savoir Beds, Highgrove Corporate Gifts, and Lock and Co. hats, worn by the Duchess of Cambridge, Kate Middleton. The exhibition will help these companies showcase their goods to over 100,000 visitors.
British Ambassador, Sebastian Wood, said:
By 2015 global demand for luxury goods is expected to soar by almost 60 per cent and Britain is home to some of the best retail and automotive companies in the world. I am delighted that our GREAT British exhibition gives Chinese audiences a chance to see what Britain has to offer. The displays demonstrate that Britain leads the way in high tech car manufacturing, cutting edge technology, and luxury fashion and design. Britain is open for business and welcomes inward investment. We also welcome tourists from China to visit our shops and buy British brands.
The event signalled the start of the next phase of the GREAT campaign in China. GREAT is the British Government's biggest ever international marketing campaign. It showcases the very best of what Britain has to offer to encourage the world to visit, study and do business with the UK.
Published 15 April 2013