News story
Great British Brands: Rolls-Royce and Teach First to train 75 new STEM teachers
Chancellor welcomes new Rolls-Royce and Teach First partnership to train 75 new STEM teachers on his tour of Great British Brands.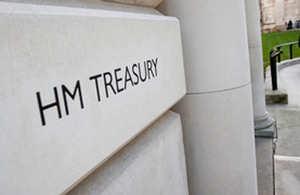 Chancellor of the Exchequer, George Osborne, today (Thursday 4 September) welcomed the announcement by Rolls-Royce to support education charity Teach First with a three year partnership deal to provide teaching to disadvantaged young people.
The announcement came as the Chancellor visited Rolls-Royce's learning and development centre in Derby where he witnessed the signing of the agreement and addressed staff.
The partnership will enable Teach First to recruit and train an additional 75 science, technology, engineering and maths (STEM) teachers, helping to raise the achievements and aspirations of over 10,000 students.
The visit formed the third leg of the Chancellor's Great British Brand Tour, aimed at supporting some of Britain's best known companies.
Rolls-Royce, founded over 100 years ago, employs over 55,000 people in 45 countries, and exports to over 120 countries.
The company accounts for 2% of all UK exports, investing over £1 billion in the UK over the last 5 years.
Welcoming the news, George Osborne, said:
Rolls-Royce is a great British success story and its decision to partner with Teach First will help develop the next generation of scientists and engineers.

Making the UK a world leader in science and innovation is a key part of our long term economic plan which is why we have protected the science budget, introduced coding in schools, and launched the Your Life campaign.

It was great to be in Derby to witness this new partnership, and to meet some of the latest apprentices at Rolls-Royce.
Colin Smith, Rolls-Royce, Director of Engineering and Technology, said:
Advanced manufacturing companies like Rolls-Royce offer fantastic career opportunities to people who excel in STEM subjects and it is important that these opportunities are open to children from a diverse range of backgrounds.

Teach First is making significant progress in increasing the uptake of STEM subjects among young people from disadvantaged backgrounds and we are delighted to help support the great work that they do.
Brett Wigdortz, CEO of Teach First, said:
The UK economy needs 40,000 extra STEM graduates each year to fill the 104,000 graduate-level STEM jobs the economy requires. But too few students are taking up these subjects and the problem is even worse for pupils in low-income communities.

Talented and passionate teachers are vital to solving this educational and economic challenge and we are delighted that through the support from Rolls-Royce we will be able to reach and inspire another 11,250 pupils.
Published 4 September 2014