GREAT Britain celebrates motorsport at Australian campaign launch
The UK's global GREAT campaign, showcasing the best of Britain around the world, launched in Melbourne today.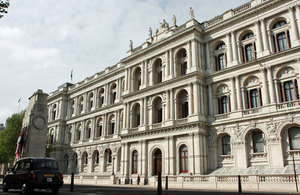 Tonight in Melbourne, over 200 guests celebrated the Australian launch of the GREAT campaign by showcasing Britain's excellence in motorsport.
The launch of the campaign kicked off prior to the F1 Qantas Australia Grand Prix and was hosted by the UK Minister for Sport and Olympics Hugh Robertson MP.
Formula One legend Sir Jackie Stewart joined the GREAT reception to showcase the best of Britain. Other F1 champions who attended included Williams CEO Alex Burns, Mercedes Benz champion Damon Hill, Mercedes Benz F1 CEO Nick Fry and current driver for Lotus Jerome D'Ambrosio.
GREAT launch, Melbourne
The launch of the UK's global GREAT campaign in Melbourne, Australia on 16 March 2012.
The F1 highlights the UK's leading position in advanced engineering with more Formula One teams based in Britain than any other country. The UK motorsport companies generate an annual turnover of 6 billion pounds, of which 3.6 billion pounds is exported.
Hugh Robertson MP, British Minister of Sport and the Olympics, who hosted the Australian launch event said:
"After the tremendous success of Sydney 2000, Australia understands the international legacy of the Olympics. The GREAT campaign will highlight to Australia, and the world, why the UK is such a fantastic place to visit, invest and do business. As the country in which two thirds of the world's Formula One cars are built, I am delighted that Damon Hill and Nick Fry will be helping to launch the campaign.
"With such strong ties between our two nations and shared passions for sport and culture, I hope that the GREAT campaign will encourage more Australians to visit or do business in the UK."
Each year, the motorsport industry makes a multi-billion pound contribution to the UK economy, with sales over £6 billion per annum of which more than 60 percent comes from export to countries including Australia.
GREAT Britain celebrates motorsport at Australian launch
With the UK in the world spotlight this year, the GREAT campaign reinforces Britain as a top tourism and business destination ahead of the celebrations for the Queen's Diamond Jubilee and the London 2012 Olympic and Paralympic Games.
The Australian launch follows the campaign's 2012 debut in New York City, fronted by fashion icon Victoria Beckham, a pre-Oscars party in LA with Academy Award nominee Gary Oldman and a third high-profile event with HRH Prince Harry in Rio de Janeiro, Brazil. As events around the world unfold, each will feature different areas of British excellence including Sport and Innovation; Shopping; Music and Countryside.
For more on the GREAT campaign visit our Facebook page: This Is Great Britain
Published 13 March 2012